Abellán lambasts Pérez and Spanish sports press in late-night radio show
Journalist claims he has "no idea" of how the tapes leaked by 'El Confidencial' were obtained
José Antonio Abellán has responded publicly to the accusations made by Florentino Pérez following the leaking of tapes in which the Madrid supremo could be heard insulting and discrediting various club legends. In the statement, Pérez claims that Abellán had secretly recorded private conversations with the president and had tried to sell them to the press some time ago.
In a statement posted by Abellán on his social media channels during his programme on La Jungla Radio, he said that "having thought about how to write a statement in response to the one released yesterday by Florentino Pérez, in which he [publicly] accuses me [of the controversial leaks] on the Real Madrid website, I think there is no better response than the one he himself gave in newspaper 'Marca' on 3 June 2009", referring to Florentino's words addressed to him: "Real Madrid is going to emerge stronger thanks to people like you, and those who have been telling the truth about Real Madrid for years".
"Florentino, I am more than happy to publicly clarify and/or debate this matter or answer any other questions that you may have", he added.
"The same professional c*ck suckers who went out at night and kept their head down"
During the same programme, Abellán also lashed out against the Real Madrid president and his colleagues in the sports press.
"Let him say it, given that he's already said everything that can be said about me, which he's totally entitled to do. There were very few people who defended the institution of Real Madrid as much as I did during those years, and it cost me my life", Abellán said before launching into a tirade.
"And now you see the same [journalists], it's a f*cking merry-go-round. The same professional c*ck suckers who went out at night and kept their head down. You'd see them in a restaurant and they'd try to avoid you. I was perfectly happy the other day when I was out walking my dogs, and then this came out. Everything can be found in by book which was published in April 2015", he continued.
"The worst thing is being back at the forefront of sports journalism. There are some fantastic people, but there are also a huge number of professional c*ck suckers. I've been told that Alfredo Relaño has written something about me, that he thought I was retired and that he didn't know that I was still writing. I don't think it was he who wrote the piece [because] he is a mummy. A young lad will have written it but they'll have used Relaño's signature, as he's been around for many years [and his signature carries much weight]. Back then, even [newspaper] 'AS' had a guy to w*nk off Florentino's dog. Do you think I would say this if it were a lie or if I couldn't prove it? Look at what journalism was like back then. It was AS who promoted [former president] Calderón, and they took advantage of this", he attacked.
Abellán asked the president to meet him so that they could clarify the situation. "I would like to sit down with Florentino and for him to tell me, face to face, that I tried to sell the tapes. This is a lie. And if [Pérez] has any balls, he should prove that I did. I haven't lied once in my professional career, and nobody can claim otherwise. I haven't got the faintest idea how 'El Confidencial' got hold of the tapes, although I can picture various possibilities or scenarios. I don't want to know how it happened. I swear, I don't have a clue", he said.
"Florentino, I would like you to invite me to wherever you want, wherever you want, along with all of your c*ck sucking friends in the media like Tomás Roncero, Siro López and Iñaki Cano. You can ask me questions, I can ask you questions and we can get to the bottom of this", he added. "[Tomás] Roncero used to w*nk off Florentino's dog. I called [his friendly journalists] his minions, because that's what they were. Florentino knows that he will never report me".
In its official statement, Real Madrid claimed that the audios had been leaked due to Pérez's involvement in the European Super League. "The Super League stuff has caused him to lose his mind, which has happened several times to the poor guy recently. For better or worse, he's a genius", he added. "Everything that was discussed yesterday is published in my 2015 book. A book that Florentino Pérez ensured was withdrawn and not sold or distrubuted".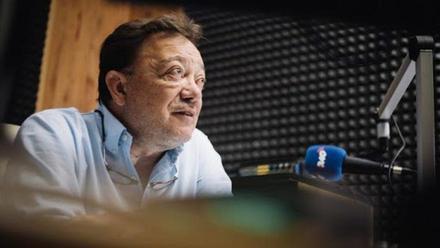 More Pérez anecdotes
"When the book was published, Florentino met with his inner circle which included the likes of [journalist and director of Spanish television channel La Sexta] Antonio García Ferreras and [journalist] Eduardo Inda , amongst others. They meet on a regular basis. They were having dinner together, and Florentino, almost possessed, said "F*ck, the book has already been published. Abellán is a son of a b*tch. Everything he says is a lie. I'm going to f*ck him up and have him thrown in jail". Everyone was quiet, looking at the floor, when Inda said: "Hang on a sec, Florentino. The book doesn't contain a single lie about you. Trust me, I've read it"", he said on last night's show. "Ferreras hasn't said anything yet and neither do I expect him to, because he knows he can't say anything. He's the most powerful guy in the country, yet he hasn't weighed in on the discussion because he knows I'm right".
"If you think about the thousands of client journalists that Florentino pays off to give him a favourable image in the press, they've not got more than one brain cell between them. This amount of people shooting the messenger [in this saga] is not normal. In other countries, nobody shoots the messenger".
Abellán also claimed that he was offered 6 million euros in Gijón prior a radio programme to "not talk any more about Ramón Calderón or his entourage".
"I've been told that a small group of professional c*ck suckers, who haven't delivered a news item in their f*cking lives, have been talking about me on 10 to 12 night-time radio and television programmes, giving me a hard time. They knew that I was sleeping, because if I wasn't I'd have called up [the shows] to tell them a thing or two. They avoid me just like they avoid me when they see me in a restaurant. [They've] done nothing in their f*cking lives but make money [by whatever means necessary]. People have paid for their children to go to private schools abroad. They earn a fixed salary every month. People have paid for their drugs and their prostitutes. I've kept my mouth shut for 10 years but now the truth must come out", he concluded.