Thiago: "Coutinho and Xabi Alonso told me to sign for Liverpool"
The Spanish midfielder completed his move to the English champions from Bayern Munich today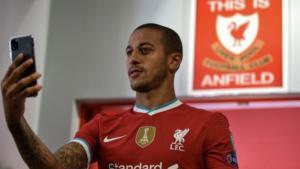 Thiago Alcantara successfully completed his move to Liverpool today. Fresh after winning the treble with Bayern Munich, the former La Masia star has opted to try his luck in the Premier League. Thiago spoke with both Philippe Coutinho and Xabi Alonso and both recommended he made the move to Anfield.
"Yeah, for sure. More than the football aspect because in the end, Liverpool is what it is for the last years, the last decades. They were amazing, they performed and it is raising every year as much as you can, as much as they can, as much as we can, is what I should say. More than that, it is the family aspect, the life aspect – how is the city? Where to go, how life was. People like Philippe Coutinho and Xabi Alonso helped me a lot to take this last step. It's really good," he told the club's official website.
Thiago will fight for a place in Liverpool's midfield alongside Jordan Henderson, Fabinho, Gini Wijnaldum, Naby Keita, James Milner, Alex Oxlade-Chamberlain and Curtis Jones. This means manager Jurgen Klopp has a lot of options at his disposal and, naturally, has led to suggestions one or two players could leave Anfield before the transfer window closes.