Pep Guardiola confirms the Eric Garcia injury
The Man City coach says it's not too serious and the Barca target will miss two to three weeks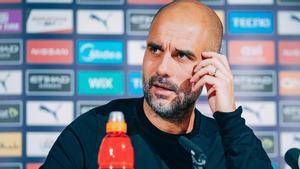 Pep Guardiola confirmed that Man City defender Eric Garcia will be out for two to three weeks.
The Barcelona target will therefore not feature in this weekend's Manchester derby.
"He will be out two or three weeks," said Pep.
The former Barca coach also said there was a good atmosphere in the Man City dressing room this year.
"In football you have to demonstrate something, always, but the atmosphere in the dressing room among the staff, at the club, this year it's especially good. I have no complaints.
"I don't want to celebrate the good moments only if in May we win something. You have to enjoy the journey. If we play a good game, you enjoy it and then look at the next one. That's the way I want to live in this job."