Liverpool's Mo Salah tests positive for coronavirus again
The winger has the virus even though he has no symptoms and is still in Egypt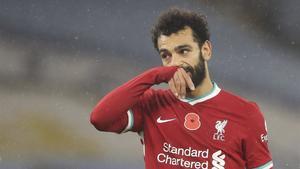 Coronavirus is running amok this season and Liverpool winger Mo Salah is one of the higher profile players to get the virus.
The 28-year-old had a new test with the Egyptian FA on Wednesday to see his status and that returned positive again, after they had announced on Nov 14 that he had the virus.
Salah will miss Liverpool's clash with Leicester City on Sunday then Atalanta in the Champions League next week, as well as potentially other games depends on how quickly he recovers.
He has no symptoms. "I'd like to thank everyone for the supportive messages and well wishes. I'm confident I'll be back on the field soon," he said on social media.
Atletico Madrid forward Luis Suarez also tested positive for the virus again and will not face Barca on Saturday.