Egyptian king Mo Salah not certain if he will stay at Liverpool
The wing wizard didn't confirm that he would be staying at Liverpool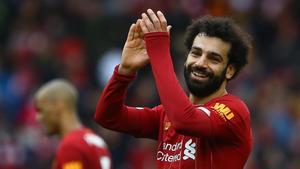 "Nobody knows the future and what will happen, we will see what happens, I only want to enjoy today and the moment," said Mo Salah. "I am happy that we won the Champions League and the Premier League."
Egyptian winger Salah was speaking to Colombia FM, putting in doubt his continuity at Anfield. Salah is one of the best players in the world and various teams will be on alert after hearing these words.
The player spoke to the BBC about the future and winning the league.
"It's great, a huge sensation to win the Premier League with Liverpool for the first time in 30 years, we have to keep that hunger for the next season because it will be harder than this," He explained.
"I think we can win another trophy and another one, I hope we can do that. That's our objective. I don't see why we can't, that's all that's in our heads. I think if we maintain this hunger and fight with all we have it will be possible."