De Bruyne on Man City signing Messi: "I don't really care to be honest"
Messi wanted to leave Barcelona in the summer but ended up staying put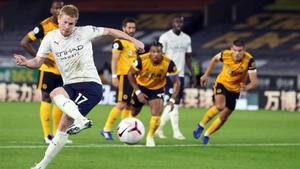 Manchester City star Kevin de Bruyne says he doesn't care if the club sign Lionel Messi from Barcelona or not following a failed move in the summer.
Messi, 33, wanted to leave Barça in the wake of the 8-2 Champions League defeat to Bayern Munich but the club would not let him go.
If he had managed to leave, Premier League side City had done the groundwork and were the favourites to land his signature.
"I don't really care to be honest," De Bruyne said when he asked if he would like City to sign the Argentina international.
"If he comes, it's a good thing, if he doesn't there are enough good players at the club who I enjoy playing with, so that is not for now."
Omar Berrada, the Chief Football Operations Officer at City, opened the door to signing Messi next summer this week, when his contract with Barça expires.
"He's the best player in the world, he's the best player of his generation," said Berrada. "I think any club in the world would like to explore the possibility of him joining their team.
"The fact that it was commented that he wanted to come to play for City just shows you how far the team has come over the last years where the best talent of his generation and potentially saying he wants to come and play for us.
"It's hard to guess what could happen. If you think back to those two weeks where everything played out at Barcelona, it's almost impossible to guess what will happen next summer."