Cesc Fabregas: Wilshere could have made it at Madrid or Barca
The former Arsenal, Chelsea and Barca man spoke to the Mail about his ex team-mate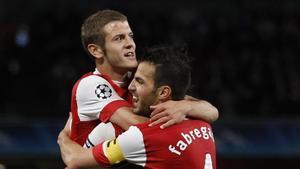 Jack Wilshere is a classic case of a footballer who could not reach his potential in the game because of a string of injuries. He played with Cesc Fabregas at Arsenal. The 28-year-old English midfielder is currently without a club as he looks to try and get his career back on track.
"Jack was such a good talent, one of the most talented players I've ever played with," Fabregas told the Daily Mail.
"He was just 16 when he first came to train with us and I was like, 'Wow this guy is good, strong, sharp.'
"It's a big shame what has happened to him. I feel sorry because he could have been a proper English legend of the game.
"We always talk about how British players would adapt to teams in Europe – I always believed that Jack was one of the few Brits who could have made it big time at Real Madrid or Barcelona.
"Same with Aaron Ramsey and Gareth Bale. These guys are so talented, without injuries they could have done much more."