Aubameyang turns down Barcelona to stay at "incredible" Arsenal
His manager, Mikel Arteta, claims the striker decided to stay at Arsenal because they are "as big as" Barça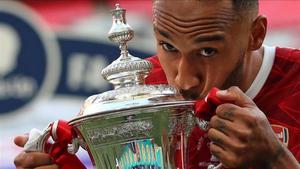 Mikel Arteta claims that Pierre-Emerick Aubameyang rejected the chance to join FC Barcelona before signing a new contract with the London club. The reason behind that is apparently because Arsenal are an "incredible club" and that they are "as big as" Barça.
Barcelona and Inter Milan both made proposals to sign Aubameyang before he penned an extension for the Premier League side.
The 31-year-old was heavily linked with a move away and Arteta admits he thought his star striker could leave.
"We have some fantastic people working here and he feels the love from the fans. I did my part, explaining to him what we are trying to do, explaining to him how important he is going to be, what we are building. That's it. The club has to take credit for that and all the people who put together this package for him to stay."
On the talk of Barça and Inter's interest, Arteta said: "The size of our club is as big as those names. The most important thing is the football club. What we inspire to be, and what we can achieve in the future. We must make sure that our players believe in our project."