Kevin Durant: I would like to spend my final season playing for Barcelona
The Brooklyn Nets would like to play for the Catalan club's basketball team in the future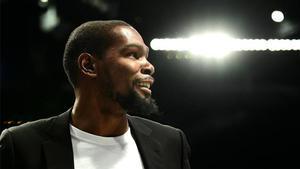 Brooklyn Nets star Kevin Durant has said in an informal chat with the website Bleacher Report that he "would like to play my final season with FC Barcelona." The comment drew interest from Raptors player Serge Ibaka, who was also part of the interview.
"You really want to play for Barcelona?" he asked Durant, who responded: "I've achieved so many things so young, so I look to the future trying to do the most that I can do.
"I really want to play my final year in Europe and I would do it at FC Barcelona, without doubt, one of these days... It's the second-best league in the world and it looks fun, the Euroleague games..."
KD on FC Barcelona? 👀@KDTrey5 says he'd love to play a final season overseas. Watch "How Hungry Are You?" https://t.co/1pFHgxS4BE pic.twitter.com/dfrsxFMvvj

— Bleacher Report (@BleacherReport) 28 de octubre de 2019
Durant, 31, added that "I don't know how I would do it but it's like a dream." He will miss the current season due to a serious Achilles injury.
We will have to wait until his contract with the Nets ends to see if he ends up at Barça, although Barcelona player Alex Abrines has already opened the door to the move...
Another one?🙄🙄🙄 https://t.co/rlBSDNSzUW

— Alex Abrines (@alexabrines) 28 de octubre de 2019