Busquets: "Strikers like Diego Costa make Spain more unpredictable"
Busquets says he won't adapt his style just because he's on a yellow card and also mentions the possible players who could join him in the midfield tomorrow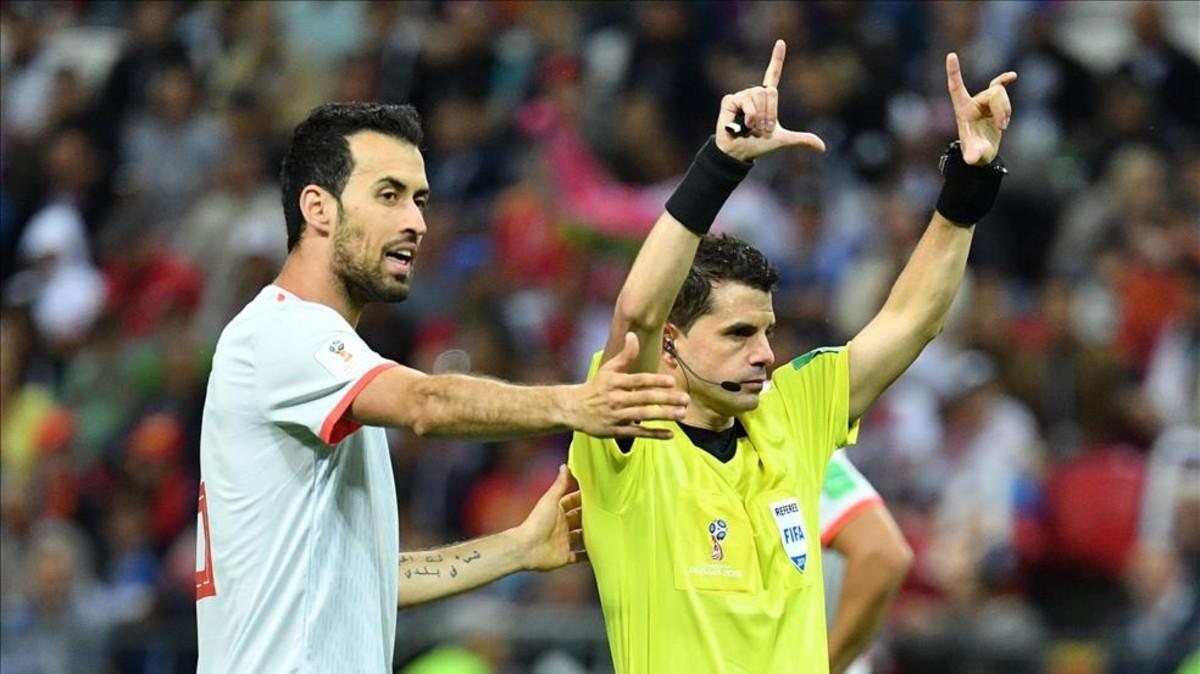 Sergio Busquets analysed some of the main talking sports surrounding the Spanish national team ahead of their match against Morocco tomorrow. He was questioned on the players who could play alongside him in midfield, and in particular on Koke, who has a different style to the others.
"All of them are great players: Iniesta, Isco, Thiago. I'm sure Koke is the one who would stay closest to me in the middle of the pitch. But in the end I feel comfortable alongside all of them and the collective effort of the team."
Busquets was asked about being on the brink of suspension and whether that would condition the way he'd play against Morocco. "They're the rules but I'm going to give everything I've got."
And Busquets revealed himself to be a fan of the football Morocco have been playing at this tournament despite the fact they're sitting on zero points. "Football can often be unfair. They're shown they have a higher level than a team which has zero points. They've been unlucky to concede goals from dead ball situations, a freekick and a corner. But yes, in terms of the level of football they play they deserve more. They have zero points but they've played great."
The midfielder didn't want to talk too much about his soon to be former teammate Iniesta's form. "I see him as fine. I'm sure, knowing that this is his last World Cup, he'll be more desperate to play and I'm sure he'll do a phenomenal job. We all know the player he is."
Lack of control
"It worries us a little bit. It's clear we'd like to finish games with more goals but each game is different from the next. In general, when one team goes behind they change their system, play further forward and then it's more difficult to control. We can't compare the match against Portugal with the one against Iran. We don't usually start these tournaments well. We know how to suffer and that there will be difficult moments. But we want to finish first and not look beyond that for now," declared Busquets.
On Diego Costa and the impact he has on the way the team plays when he's on the pitch. "The good thing about having different types of strikers is that we can change our system depending on who plays and this makes us less predictable."
Busquets says the team isn't considering possible opponents in the next round and are simply focused on beating Morocco and getting through the group stage. "It's obvious we know who we could face in the next round but for us there's only one objective and that's to win and finish first in the group. We're seeing that being viewed as a favourite doesn't exist at this World Cup."