Unai Emery has another problem on his hands at Paris Saint-Germain
After 'penalty-gate' the coach now has a problem with his goalkeepers
Kevin Trapp is not happy with his lack of minutes in a World Cup year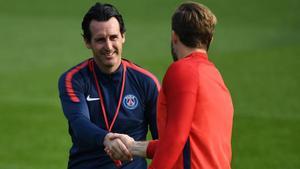 Unai Emery's problems are stacking up. His management of the Paris Saint-Germain dressing room is not proving easy. The opposite. The first big incident, which surrounded who takes penalties out of Neymar and Cavani, has still not been resolved, but now the former Sevilla coach has something else to worry about.
The goalkeeper situation at PSG is the hot topic now. The Spanish coach has bet on Alphonse Areola as his No.1 this season. The former Villarreal stopper has played every minute until now, replacing last season's starter, Kevin Trapp, who is losing patience with his manager's decision.
With the World Cup around the corner, the lack of minutes could leave Trapp out of the Germany squad. He will not make Low's list next summer if he is not playing regular football.
Trapp is aware of that and for that reason during the international break this month he advised that he could be open to a move in January if his situation does not change.
In the second half of last season, he had Emery's confidence, but some mistakes saw him lose his place to Areola, who is now the firm first choice, playing everything.
"As far as the World Cup is concerned, I absolutely have to be playing," Trapp said. "I do not know if I will play for PSG in the domestic cups, we have not spoken about that yet. If I am not going to play, I will need to think."
The German added: "I will do everything to go to the World Cup. However, it is complicated for me right now. I am working each day to be ready. I really need to play because the national team coach has insisted that I need to be performing with my club.
"I need to ask myself questions, reflect and speak with the club. However, for now, I am at PSG and not Dortmund or anywhere else. My head is with PSG, I have a five-year contract and I am going to give everything."