Thiago Motta takes over as PSG U19 coach
The former midfielder is aiming to win the UEFA Youth League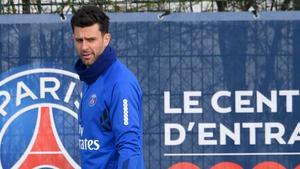 Thiago Motta will take over PSG's U19 team after deciding to retire at the end of last season.
He will train them for the first time on Wednesday at 4pm behind closed doors, with the Italian starting a new era on the bench.
His objective is to win the French youth league and the UEFA Youth League. His technical staff are Régis Beunardeau, Simon Colinet and Benjamin Leborgne.
At 35 Motta retired after spending his final seasons at PSG, between 2012 and 2018. He has won 18 of his 27 career titles with PSG.
Motta came from the Barca youth academy, playing for the first team between 2001 and 2007. Then he went to Atletico Madrid, Genova and Inter Milan.