Pochettino: What coach in the world wouldn't want a player of Messi's caliber?
The PSG coach was asked about interest in the Barcelona star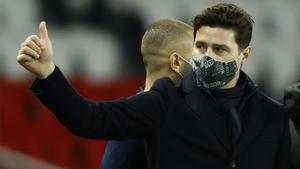 Paris Saint-Germain's hunger to make signings this summer seems to have no limits and two big names are on their list of targets: Sergio Ramos and Lionel Messi.
New PSG coach Mauricio Pochettino has spoken to AS and Marca about those players after taking over at the French club recently.
On Messi, he said: "There's nothing left to say. I respect him and admire him so much that I would rather not say anything, or even refer to myself in the same sentence as him. That's the best tribute you can pay anyone.
"One thing that we share is that we both wore the Newell's shirt and that is huge. That link unites us. That he is one of the best players of all-time is something that I am not going to find out about and when the time come when we face each other, both of us will fight for our own interests.
"Sometimes, words fail me. Your question says it all. What coach in the world wouldn't want a player of that caliber? I totally understand the question, but it's an attempt to cause controversy.
"It's a dangerous question for me to answer if my words are then taken out of context… Then we'll see 'Pochettino lacks respect, Pochettino said this, Pochettino said that...'
On Ramos, he said: "Here he would find a great club obsessed with always winning. PSG are one of the best in the world."
In Paris, Pochettino lifted the first trophy of his career recently, although he deflected from that by saying he's achieved other important things in his career.
"We did a lot of things during those years which were much more important than winning trophies," he added. "Getting to a position where you have the chance to win something and winning silverware is important. But it isn't the important thing.
"I've won three Catalunya Cups with Espanyol. If one day Catalunya gains independence, that will be worth more merit because we beat Barcelona -- in consecutive years. Not just any old club. That is quite a feat… Even Neymar, Rafinha told me how impressive it was because we beat Barcelona."
Pochettino's next challenge is Barça in the Champions League: "Of course the Barcelona game is an important date for PSG, for the fans, for the players. Having come so close last season after beating them means that we are even more hopeful this time around.
"Who better than Ronald (Koeman) to understand the essence of Barcelona? He is a club legend. Sometimes, circumstances require someone who can provide solutions when the time comes to compete.
"Every coach needs time to find what they want so that the tactical pieces come together on their own. When you first arrive, you make decisions and gradually discover what are the best combinations so that the team function how you want it to."
NEW FC BARCELONA PODCAST IN ENGLISH