Neymar demands Paris Saint-Germain sell Edinson Cavani
The Brazilian has told PSG's president that the relationship is beyond repair
He wants Cavani to be sold as soon as possible... either in January or next summer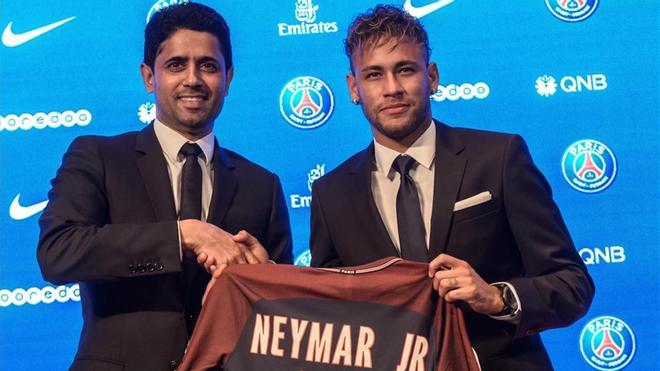 Behind Neymar's smile he is making the necessary moves to apply his power in Paris. PSG president Nasser Al-Khelaifi assured him that he would be the star and all it's taken is six weeks for the Brazilian to remind him of that promise. How? By demanding the sale of Edinson Cavani.
Neymar shows his best face off in puclic but behind closed doors that smile transforms.
The former Barcelona forward has told Al-Khelaifi that co-existing with Cavani is totally impossible and he's asked for the Uruguay striker to be sold. The ideal scenario would be during the winter transfer market, but having already played in the Champions League, the chances of a sale are reduced. It could happen, therefore, at the end of the season.
Ney knows he's the boss in the dressing room because that's what Al-Khelaifi promised him
The PSG president, who made Neymar the most expensive player in the history of football, knows what he has on his plate and before the storm becomes a tsunami, he must take action. Or, to be clearer, he must pick sides. Obviously, in Neymar's favour.
Neymar has the support of the Brazilians in the dressing room and has been able to quickly win Kylian Mbappe's favour, leaving Cavani relegated to the background. In fact, the Uruguayan knows he is more and more alone all the time.
Five months after renewing with PSG until 2020, the status he earned following the exit of Zlatan Ibrahimovic has been lost. If in the past Laurent Blanc had criticised his relationship with his team-mates, becoming the star of his team changed his relationship with the dressing room... something which has now changed again.
Edinson Cavani is more and more alone in a squad handed to the Brazilian
His status as a veteran has not been taken on board by Neymar, who at the end of the game in the Parc des Princes against Olympique de Lyon showed in front of all his teammates, in the dressing room, his strong personality.
Questioned on his conduct in the game by Cavani, Ney stood up and squared up to his team-mate and only the actions of defender Thiago Silva prevented the heated discussion turning into a fight. That situation, however, showed a new reality: Neymar is not a mere companion.
Neymar wants Cavani to leave PSG sooner rather than later and the future of the Uruguayan striker, who once was linked to Atletico Madrid, has already become the subject of speculation in England. The war is lost.