Neymar admits problems with Cavani earlier this season
The Brazil star says there was tension with his PSG teammate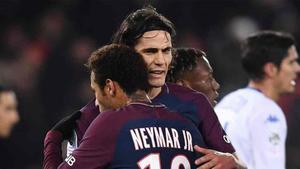 Paris Saint-Germain forward Neymar has admitted in an interview with the show 'Altas Horas' on TV Globo that there were tense moments with teammate Edinson Cavani earlier this season.
The tension was reflected on the pitch and in the dressing room at PSG, with the spat a talking point among the world's press, despite the various denials from the French club.
Neymar's confirmed there was tension between him and Cavani but says it was all sorted thanks to a meeting, with everyone keen to solve the problem.
The dispute between the two began when they fell out on the pitch over penalty taking duties.
"It was made to sound bigger than it really was," he said. "Of course there was a certain tension, friction with Cavani, but we resolved it quickly.
"Three days after it happened, we all sat down and we talked. We're two great player, but we're also people and we had to resolve the personal side of things.
"But the reports which came out were much bigger, I think becase that's wha sells: people oversell the stories, talk about things they shouldn't."