Victory beyond reach for Real Valladolid, as they only manage a 2-2 draw with Elche
Both sides unable to make the difference as Real Valladolid and Elche draw 2-2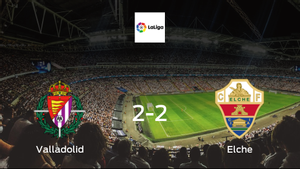 On Tuesday, Real Valladolid and Elche were held to a 2-2 draw at José Zorrilla. With each team arriving on the back of a league defeat, they were both keen to pick up points. Real Valladolid were looking to get back winning ways after losing their last game 1-0 to Valencia. Elche, on the other hand, were beaten 3-1 in the previous match against Getafe. As the table looks today, Real Valladolid are currently 16th with 19 points from 19 matches, while Elche sit in 18th, with 17 points from 19.
It was an impressive opening from Elche, following Josan opening the scoring in the 9th minute. Later, Elche took the lead with a goal form a new goal from Josan, scoring his second goal in the 43rd minute just before half-time. The score at half time was 2-0.
Real Valladolid took the initiative in the second half, beginning with a goal from Michel Herrero in the 71st minute. Later, Real Valladolid scored again and found an equaliser thanks to a goal from Joaquin Fernandez in the 89th minute just before the final whistle. The game ended a 2-2 draw.
For Real Valladolid Michel Herrero, Toni Villa, Pablo Hervias, Sergio Benito and Kuki Zalazar came on for Fede San Emeterio, Kike Perez, Luis Perez, Oscar Plano and Roque Mesa, while Elche brought on Diego Gonzalez, Miguel Cifuentes, Victor Rodriguez and John Nwankwo Donald to replace Josema, Josan, Jonathan Carmona and Lucas Boye.
There were bookings for Fede San Emeterio from Valladolid and Josema, Miguel Cifuentes and Pere Milla for Elche.
Real Valladolid will next play Levante away, with Elche facing Barcelona at home.
Technical card:
Real Valladolid:
Jordi Masip, Luis Perez (Pablo Hervias, min.72), Ruben Alcaraz, Joaquin Fernandez, Nacho Martinez, Fede San Emeterio (Michel Herrero, min.57), Roque Mesa (Kuki Zalazar, min.89), Kike Perez (Toni Villa, min.57), Shon Weissman, Oscar Plano (Sergio Benito, min.89) and Fabian Orellana
Elche:
Edgar Badia, Antonio Barragan, Gonzalo Verdu, Josema (Diego Gonzalez, min.74), Johan Mojica, Josan (Miguel Cifuentes, min.74), Jonathan Carmona (Victor Rodriguez, min.74), Raul Guti, Emiliano Rigoni, Lucas Boye (John Nwankwo Donald, min.86) and Pere Milla
Stadium:
José Zorrilla
Goals:
Josan (0-1, min. 9), Josan (0-2, min. 43), Michel Herrero (1-2, min. 71) and Joaquin Fernandez (2-2, min. 89)