Radio Marca: Simeone close to renewing his contract with Atletico
The Argentine is set to extend his deal with the Rojiblanco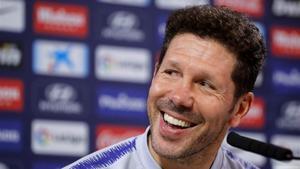 Diego Simeone is set to extend his contract with Atletico Madrid, according to a report in Radio Marca on Thursday.
Simeone's current deal expires in 2020 but the Rojiblanco are keen to tie him down for several more years given his importance to the project.
Radio Marca say that his new deal will see him earn more than stat forward Antoine Griezmann -- who renewed in the summer and earns around 20 million annually.
However, Simeone's people are also said to be negotiating a clause which would faciliate a possible exit in the case that he doesn't fulfil the whole contract.
Cholo took over Atletico in 2011, over seven years ago, and signed a new deal which takes him through to 2020 last September.
Now, in his eighth season at the club, he's back in talks over a new deal with Gil Marin.