R Madrid cruise to win against Mallorca 6-1 at Madrid
Home crowd rewarded with a win, as Carlo Ancelotti's team triumph over Mallorca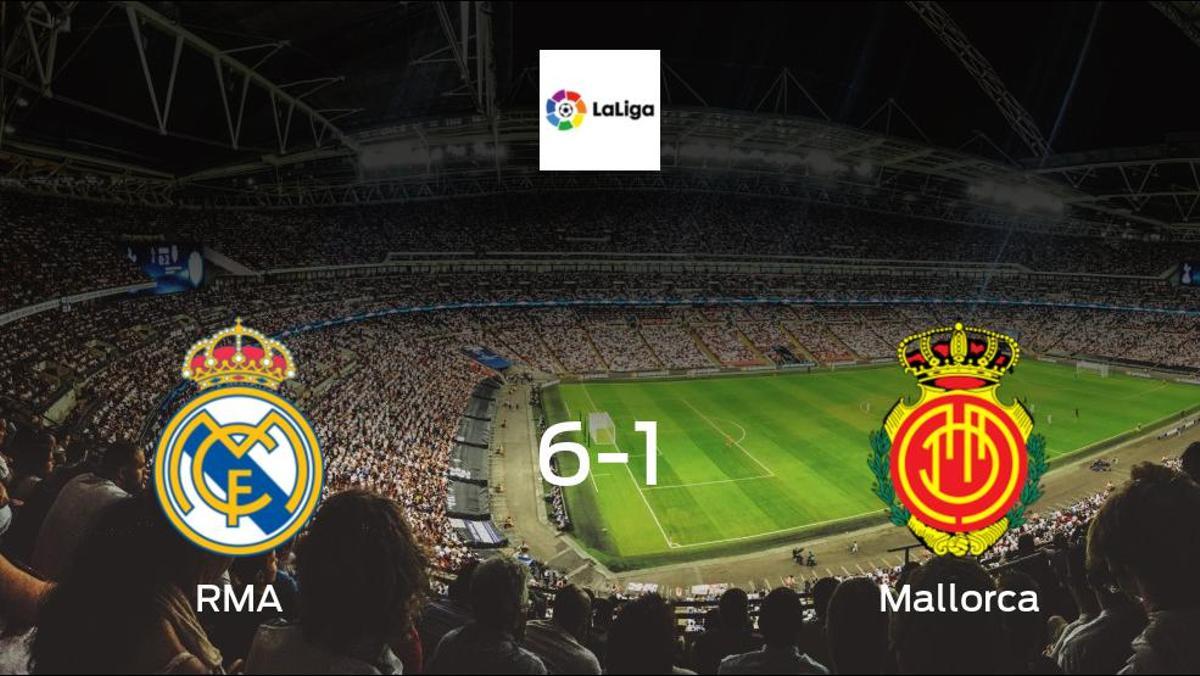 R Madrid's 6-1 win over Mallorca on Wednesday, was hard fought at Santiago Bernabeu. RMA were looking to pick up points after winning their previous two games in the league. The most recent was against the Valencia away (2-1), the other to Celta Vigo at home (5-2). Mallorca are struggling for form following a draw in their last match. As the table looks today, RMA are in 1st place, with 16 points from 6 matches, while Mallorca sit in 10th, with 8 points from 6.
Los Blancos started the first half well, with an early goal from Karim Benzema in the 3rd minute. The momentum was now with RMA, who then scored again through a goal from Marco Asensio, at 24 minutes to establish a 2-0. However, The Vermilions weren't lying down and managed to pull back a goal from Kang In Lee at the 25 minute mark. However, RMA secured the points emphatically, with a effort from Marco Asensio, 29 minutes in. The score at half time was 3-1.
RMA started strong in the second half and were able to dominate, with Marco Asensio finding the net again, 55 minutes in. The momentum was now with RMA, who then scored again through a 2nd effort from Karim Benzema in the 78th minute to establish a 5-1. However they weren't finished yet and Isco made it 6-1, 84 minutes in with a final score of 6-1.
For RMA, Antonio Blanco, Isco, Lucas Vazquez, Luka Jovic and Sergio Santos, came on for Eduardo Camavinga, Marco Asensio, Rodrygo, Karim Benzema and Nacho. Mallorca brought on Iddrisu Baba, Jaume Costa, Antonio Sanchez, Abdon and Jordi Mboula, to replace Take, Josep Gaya, Aleix Febas, Matthew Hoppe and Lago Junior.
There were bookings for Rodrygo and Nacho from RMA, and Iddrisu Baba, for Mallorca.
RMA next face Villarreal and Mallorca are at home to Osasuna.
Technical card:
R Madrid:
Thibaut Courtois, Nacho (Sergio Santos, min.80), Eder Militao, David Alaba, Miguel Gutierrez, Marco Asensio (Isco, min.72), Eduardo Camavinga (Antonio Blanco, min.60), Federico Valverde, Vinicius Junior, Rodrygo (Lucas Vazquez, min.73) and Karim Benzema (Luka Jovic, min.80)
Mallorca:
Manolo Reina, Joan Sastre, Brian Olivan, Martin Valjent, Josep Gaya (Jaume Costa, min.59), Take (Iddrisu Baba, min.46), Aleix Febas (Antonio Sanchez, min.59), Rodrigo Battaglia, Kang In Lee, Lago Junior (Jordi Mboula, min.76) and Matthew Hoppe (Abdon, min.59)
Stadium:
Santiago Bernabeu
Goals:
Karim Benzema (1-0, min. 3), Marco Asensio (2-0, min. 24), Kang In Lee (2-1, min. 25), Marco Asensio (3-1, min. 29), Marco Asensio (4-1, min. 55), Karim Benzema (5-1, min. 78) and Isco (6-1, min. 84)