Mission accomplished for Rayo as they secure a 3-1 home win against Cádiz
Cádiz return home with no points after travelling to Rayo on Sunday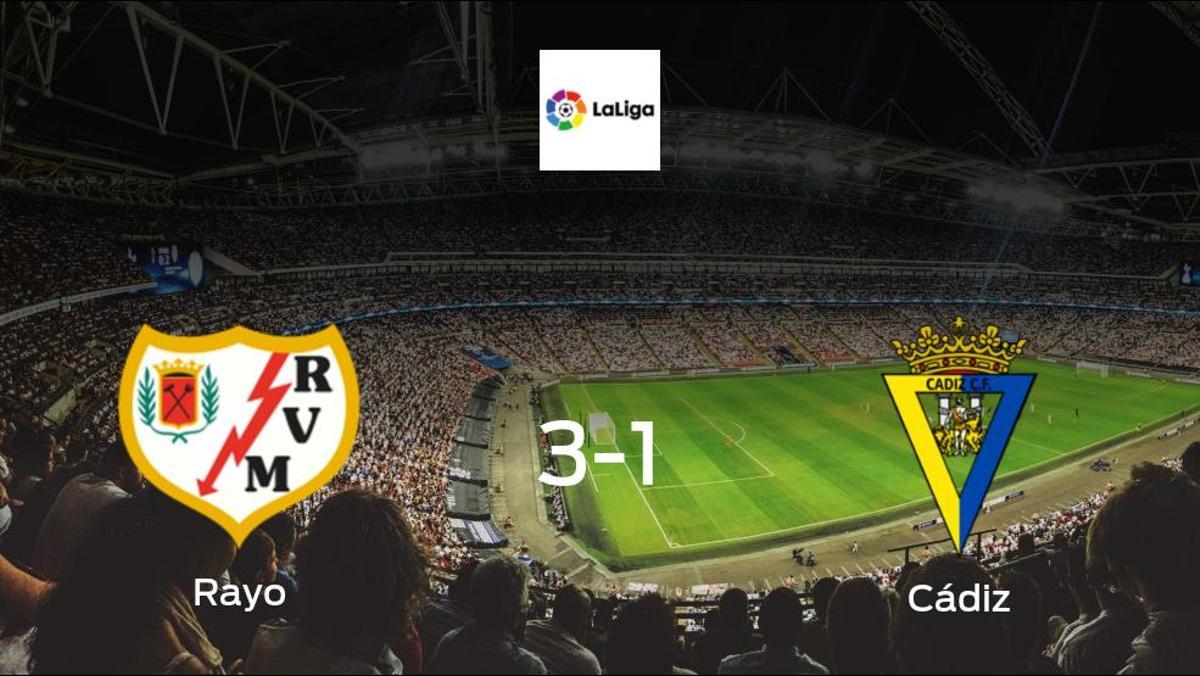 Rayo Vallecano strolled past Cádiz with a 3-1 win on Sunday at Estadio de Vallecas. Rayo were looking to pick up points after winning their previous two matches in the competition. The most recent was against the Athletic Bilbao away (2-1), the other to Getafe at home (3-0). Cádiz secured a point against Barcelona in their previous match. After today's result, Rayo are in 8th place, with 10 points from 7 matches, while Cádiz sit in 13th, with 6 points from 7.
Rayo started strong and were rewarded for their efforts, with a goal from Alvaro Garcia at the 9 minute mark. However, they were unable to maintain their lead, Varazdat Haroyan managed to equalize and take the sides off, 23 minutes in at 1-1. Rayo in turn, then responded just before half-time increasing their lead with an effort from Falcao. The score at half time was 2-1.
Rayo continued to apply pressure in the second and were rewarded, thanks to a goal from Isi Palazon just before the final whistle. When the final wisthle blew, the result was 3-1 to Rayo.
For Rayo, Santi Comesana, Randy Nteka, Pathe Ciss, Sergi Guardiola and Nikola Maras, came on for Unai Lopez, Falcao, Óscar Valentín, Oscar Trejo and Esteban Saveljich. Cádiz brought on Ruben Sobrino, Alvaro Jimenez, Alvaro Negredo, Anthony Lozano and Alberto Perea, to replace Jens Jonsson, Santiago Arzamendia, Florin Andone, Alvaro Bastida and Carlos Akapo.
There were bookings for Isi Palazon and Ivan Balliu from Rayo. For Cádiz, Alvaro Bastida, Varazdat Haroyan, Juan Cala and Alberto Perea saw yellow.
Rayo will next travel to Osasuna, while Cádiz will face Valencia at home.
Technical card:
Rayo Vallecano:
Stole Dimitrievski, Ivan Balliu, Alejandro Catena, Esteban Saveljich (Nikola Maras, min.84), Francisco Garcia, Isi Palazon, Oscar Trejo (Sergi Guardiola, min.84), Unai Lopez (Santi Comesana, min.64), Óscar Valentín (Pathe Ciss, min.72), Alvaro Garcia and Falcao (Randy Nteka, min.64)
Cádiz:
Jeremías Ledesma, Carlos Akapo (Alberto Perea, min.77), Juan Cala, Varazdat Haroyan, Alfonso Espino, Salvi Sanchez, Jens Jonsson (Ruben Sobrino, min.46), Tomás Alarcon, Santiago Arzamendia (Alvaro Jimenez, min.46), Alvaro Bastida (Anthony Lozano, min.67) and Florin Andone (Alvaro Negredo, min.67)
Stadium:
Estadio de Vallecas
Goals:
Alvaro Garcia (1-0, min. 9), Varazdat Haroyan (1-1, min. 23), Falcao (2-1, min. 44) and Isi Palazon (3-1, min. 87)