Levante drop points against Cádiz 2-2 at Estadio Ramon de Carranza
Cádiz can only tease out a 2-2 draw in their fixture against Levante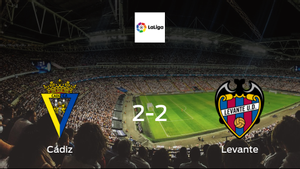 Cádiz were held to 2-2 draw by Levante down on Tuesday at Estadio Ramon de Carranza. Both Cádiz and Levante arrived in good form, having secured victories in their previous matches. Cádiz were looking to continue their run, following a 3-1 victory against Alavés. Levante were coming off the back of a 2-1 win against Eibar. After today's result, Cádiz and Levante currently occupy 8th and 11th spots in the table, with 24 points and 22 points respectively after 19 matches.
Cádiz started strongly in the first half, beginning with early goal from Alberto Perea in the 4th minute. However, their lead didn't last for long, as an equalizer from a goal from Roger Marti, 8 minutes in brought Levante level. Later, Levante scored again thanks to another goal from Roger Marti, scoring his second goal, 11 minutes in to establish the 2-1. However, they didn't maintain the lead for long though, an equalizer from a Juan Cala, 28 minutes in brought Cádiz level, which saw the first half end 2-2. With both teams struggling to produce anything meaningful in the second half though, the game ended 2-2.
For Cádiz Salvi Sanchez, Ivan Alejo, Alvaro Gimenez and Yann Bodiger came on for Alberto Perea, Alvaro Negredo, Anthony Lozano and Jens Jonsson, and Levante brought on Gonzalo Melero, Ruben Vezo, Dani Gomez, Ruben Rochina and Son for Mickael Malsa, Sergio Postigo, Roger Marti, Sergio Leon and Jorge De Frutos Sebastian.
There were bookings for Anthony Lozano, Juan Cala and Pedro Alcala from Cádiz and Oscar Duarte for Levante.
Cádiz will next travel to Sevilla, while Levante will face Real Valladolid at home.
Technical card:
Cádiz:
Aitor Fernandez, Jorge Miramon, Oscar Duarte, Sergio Postigo, Carlos Clerc, Jorge De Frutos Sebastian, Mickael Malsa, Nemanja Radoja, Jose Luis Morales, Sergio Leon and Roger Marti
Levante:
Jeremias Ledesma, Pedro Alcala, Juan Cala, Garrido, Isaac Carcelen, Jens Jonsson, Alex, Alberto Perea, Jairo Izquierdo, Anthony Lozano and Alvaro Negredo
Stadium:
Estadio Ramon de Carranza
Goals:
Alberto Perea (1-0, min. 4), Roger Marti (1-1, min. 8), Roger Marti (1-2, min. 11) and Juan Cala (2-2, min. 28)