Its all even at Ipurua Municipal Stadium, after Eibar draw 1-1 with Betis
Both sides left looking for positives as Eibar versus Betis, ends in a 1-1 draw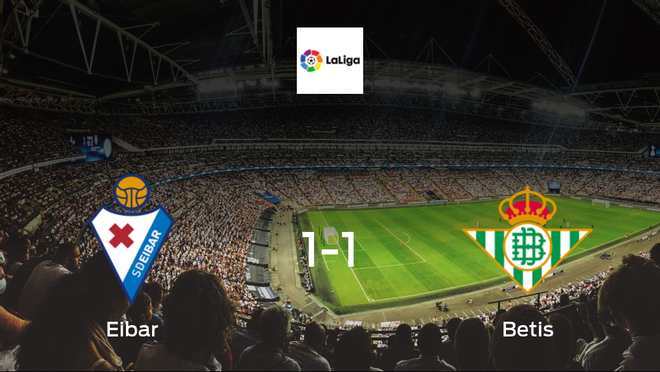 On Thursday, Eibar and Betis were held to a 1-1 draw at Ipurua Municipal Stadium. Both Eibar and Betis arrived on the back of wins. Eibar were looking to pick up points after winning their previous two matches against Getafe away and Alaves at home, by 1-0 and 3-0 respectively. Betis, on the other hand, were looking to extend their winning run after a 2-1 victory against Granada. After today's result, Eibar are in 20th place, with 30 points from 36 matches, while Betis sit in 6th, with 55 points from 36.
Betis dominated the first half, with an early goal from Andres Guardado in the 4th minute, which saw the first half end 0-1.
Eibar took the initiative in the second half, thanks to Sergi Enrich finding the net, on 83 minutes and seeing the game end 1-1.
For Eibar, Recio, Kevin Rodrigues, Yoshinori Muto and Pedro Leon, came on for Pape Diop, Bryan Salvatierra, Jose Angel and Sergi Enrich. Betis brought on Aitor Ruibal, Loren Moron, Rodri and Sergio Canales, to replace Diego Lainez, Cristian Tello, Borja Iglesias and Nabil Fekir.
There were bookings for Pape Diop, Paulo Oliveira and Roberto Correa from Eibar, and Emerson, for Betis.
Eibar will next play Valencia away, with Betis facing Huesca at home.
Technical card:
Eibar:
Marko Dmitrovic, Roberto Correa, Anaitz Arbilla, Paulo Oliveira, Jose Angel (Yoshinori Muto, min.79), Edu Exposito, Miguel Atienza, Pape Diop (Recio, min.46), Bryan Salvatierra (Kevin Rodrigues, min.72), Sergi Enrich (Pedro Leon, min.90) and Kike
Real Betis:
Claudio Bravo, Emerson, Victor Ruiz, Marc Bartra, Alex Moreno, Diego Lainez (Aitor Ruibal, min.65), Nabil Fekir (Sergio Canales, min.79), Guido Rodriguez, Andres Guardado, Cristian Tello (Loren Moron, min.72) and Borja Iglesias (Rodri, min.72)
Stadium:
Ipurua Municipal Stadium
Goals:
Andres Guardado (0-1, min. 4) and Sergi Enrich (1-1, min. 83)