Games every 72 hours and hydration breaks when La Liga restarts
Players will work hard when the season is allowed to restart after coronavirus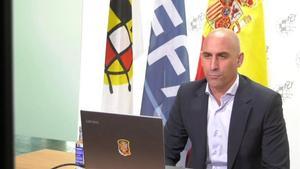 An RFEF commission, in which La Liga and the player's union AFE took part in, has looked at how football could restart. There will be a minimum of 72 hours between teams' matches.
Per the RFEF, in the online meeting, the idea of players playing every 48 hours was rejected, with the minimum 72 hour set. Given the heat in Spain in May, June, July and August, there will be two hydration breaks per half for each team.
Everyone is waiting to find out when football can be played again. The RFEF said their president Luis Rubiales "insisted on the importance on guaranteeing the security (of everyone) in the moment the government and health authorities approve football's return."