Atletico Madrid midfielder Koke robbed at gun point in car park
He was threatened with a gun in the middle of Madrid on Thursday evening
The assailiant made off with his watch, worth 70,000 euros, on a motorbike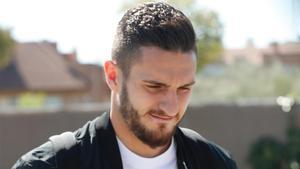 Atletico Madrid midfielder Koke was robbed in a car park in Madrid on Thursday by an individual who, after threatening him with a gun, made off with his watch, worth 70,000 euros.
The incident happened on Thursday evening in a car park in the popular area of Chamberí. The Police suspect that, around 19.00h, Koke was followed into the car park by a man on a motorbike and was then threatened with the gun when he wound down his window to get a parking ticket.
After holding the gun close to Koke's head, the attacker said 'give me the watch' before making off on the motorbike at speed.
The Atletico player reported the incident at the police station in Chamberí and the police began to analyse the secuirty footage in a bid to try to identify the assailant.
Aside from the robbery, it provided a huge square for Koke, who was able to train as normal on Friday with his team-mates in preparation for Saturday's derby against Real Madrid at the Santiago Bernabeu.