Mallorca youngster Víctor de Baunbag is being tracked by Liverpool
The striker is 1.91m tall and will be a man to watch out for this Sunday as they face off against Barça's Juvenil A side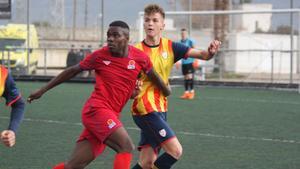 This Sunday FC Barcelona's Juvenil A side will face off against RCD Mallorca in the Division de Honor youth league. With top spot up for grabs - Barça are on 19 points and Mallorca 18, both just behind leaders Zaragoza on 20 - Denis Silva's men will come face to face with a very capable side. The standout name in the rival's line up is their striker: Victor de Baunbag.
We're talking about an 18-year-old forward whose family comes from Cameroon but he was born in Madrid. His budding career has been spent at Mallorca and the forward's finished every season as the club's top scorer. He's in his third year at the academy but is essentially part of Mallorca's reserve team, only dropping down to play with the other youngsters in big matches. He played against Espanyol and Girona is expected to do so against Barcelona on Sunday. Victor is the man the team will need to keep a close eye on.
De Baunbag stands out primarily due to his height. He's 1.91m and this makes him difficult to defend against. Although he's sometimes played out on the wing, he's a natural striker and is lethal in front of goal. His talent hasn't gone unnoticed at Mallorca and he's expected to gain some minutes with the first team before this season is over.
Those who know Victor best say he's the ideal striker for a Premier League side. This must what Liverpool think as well as they've been tracking his progress for a while and have let the player's entourage know of their interest in him.
He's part of the 2000 generation and came through the ranks at Mallorca with now Barça player, Mateu Jaume, and the two remain good friends.