UEFA have Plan A, B & C for resuming domestic seasons & Champions League
¿Start again in mid-May, in June or even at the end of June," president Ceferin said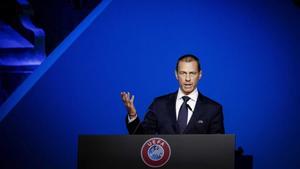 It's a minor issue in the grand scheme of things but one question occupying football fans at the moment is: 'When will the game return?'
The necessary authorities are steering away from naming dates given the unpredictability of Covid-19, but talks are constantly ongoing about when football may be able to restart.
In that line, UEFA president Aleksander Ceferin has explained that the organisation is prepared for several scenarios.
"Nobody knows when the pandemic will end," he said in an interview with La Reppublica. "We have plan A, B or C: we are in contact with the leagues, with the clubs, there is a working group. We have to wait, like any other sector, and find different solutions."
This summer's European Championships have already been postponed until next year.
"The sacrifice of Euro 2020, the main income for 50 federations out of 55, was difficult," Ceferin said. "But it was the right decision."
Looking ahead to the options now, he continued: "Not knowing when the pandemic will end, we cannot have a definitive plan. For now, we have several, as I said.
"Start again in mid-May, in June or even at the end of June. Then, if we don't succeed, the season is probably lost. There is also the proposal to end this season at the beginning of the next, which would then start a little later. We will see the best solution for leagues and clubs.
"If the leagues start playing, we can also finish the cups. The same dates can be used. There is the problem with the contracts, but that's between players and clubs. If the season starts again, a compromise would be needed: that the contracts expire later and that the period for transfers [is adjusted]."