Peter Shilton: Maradona never apologised for Hand of God
The former England goalkeeper said Maradona was a great but lacked sportsmanship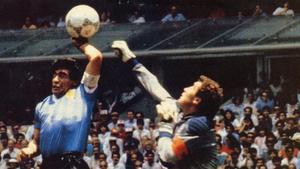 Diego Armando Maradona died sadly on Wednesday and the Daily Mail spoke to former England goalkeeper Peter Shilton. The stopper was the victim of Maradona's famous 'hand of god' goal, when he punched home against England in the 1986 World Cup.
Shilton, who expressed sadness at Maradona's passing, said the Argentine lacked sportsmanship and had not apologised for his actions.
"He challenged me for a high, looping ball, but knew he wouldn't get it with his head, so he punched it into the net. A clear offence. Cheating," wrote Shilton in his Mail piece.
"It has bothered me over the years. I won't lie about that now. People say I should have cleared the ball anyway and that I let a smaller man outjump me. That's rubbish. He had the run on me but that can happen.
"He wouldn't have punched it if he knew he could head it, would he? Of course not. So I am OK with all that.
"No, what I don't like is that he never apologised. Never at any stage did he say he had cheated and that he would like to say sorry. Instead, he used his 'Hand of God' line. That wasn't right.
"It seems he had greatness in him but sadly no sportsmanship."