Golovin turns down Chelsea and will instead join Monaco for €30m
CSKA told the World Cup star to choose between Chelsea and Monaco - so the midfielder is heading to France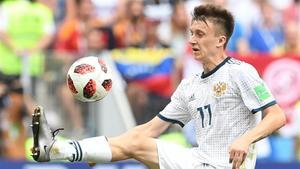 One of the biggest transfer sagas of the summer is nearing its conclusion as Russian star Aleksandr Golovin is going to join Monaco for €30m.
At 22 years old, the CSKA midfielder was one of the most wanted men during the World Cup as he stood out with his stellar displays for the host nation.
The three clubs who rushed to the front of the queue were Juventus, Chelsea and Monaco.
At one point even Barcelona were mentioned as a possible destination for the midfielder, although they opted for Arthur and Malcom to reinforce the attacking areas of their squad.
With CSKA suffering from financial problems, the Russian club's president - Evgeni Giner - placed a €30m price tag on the player's head which both Chelsea and Monaco matched. Juventus pulled out.
According to the Russian press, Giner told Golovin on Tuesday he could choose the club he wanted to join as they were satisfied with both team's proposals.
And now it's been confirmed that Golovin won't travel with CSKA for the Russian Super Cup match against Lokomotiv. The reason behind this is that the Russian international will instead travel to Monaco in order to sign for his new club.
CSKA are going to use part of that money to buy Uruguayan striker Abel Hernandez from Hull City and could increase their offer for Leganes' midfielder Gabriel Pires.