Barça 9-0 Santa Teresa: Hermoso makes history with four goals
The Blaugrana scored eight goals in the first half as they maintained their 100 percent record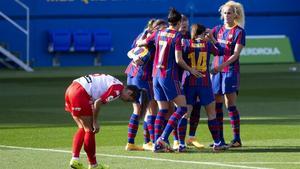 Barcelona continued their 100 percent start to the season by thumping Santa Teresa 9-0 at the Johan Cruyff Stadium on Saturday, with eight of the goals coming in an incredible first half.

FCB
STB

Barça
Cata Coll; Melanie, María Leon (Pereira, 46'), Patri (Falcón, 62'), Crnogorcevic; Losada, Hamraoui, Aitana; Mariona (Oshoala, 46'), Jenni Hermoso (Torrejón, 62') y Martens (Putella, 62').
Santa Teresa
Raquel Poza, Parralejo, Van Slambrouck (Visco, 34'), Rovirola, Belén, Mireya, Nerea Pérez, Verdaguer (Lordemann, 72'), Laaksonen (Moreno, 46'), Lidia Sánchez y Alba (Estefa, 46').
Goles
1-0 M.4 Hermoso. 2-0 M.10 Martens. 3-0 M.16 Martens. 4-0 M.25 Martens. 5-0 M. 28 Hermoso. 6-0 M.34 Hermoso. 7-0 M.45 Hermoso. 8-0 M. 45 Mariona. 9-0 M.82 Oshoala.
Árbitro
Martínez Martínez (comité murciano).
Incidencias
Partido disputado en el Estadi Johan Cruyff.
Jenni Hermoso scored four of the goals to become Barça's all-time top scorer. The Spain international has now scored 124 goals for the club, overtaking Sonia Bermudez, who scored 123 goals during two spells with the club, the second ending in 2015.
Lluis Cortes' side have now won all seven of their games in the Primera Ibedrola this season, scoring 38 goals and conceding just one in the process. The nine goals they scored here are more than seven top-flight teams have scored in the entire season so far.
Cortes made a number of changes to the side with Caroline Graham Hansen among those unavailable -- she has had contact with someone who has tested positive for coronavirus -- but the Norwegian winger was not missed.
Hermoso opened the scoring in the fourth minute and the goals didn't stop coming. The impressive Lieke Martens scored three in a row, completing her hat-trick in the 25th minute to give Barça a 4-0 lead.
Then it was Hermoso's turn again. The striker scored in the 28th, 34th and 45th minute to further extend Barça's advantage, with Mariona Caldentey making it eight in first-half stoppage time.
The second half was a quieter affair, with Barca reduced to shots from distance and Belen Martinez having a goal ruled out for offside for the visitors.
There was still time for one more goal, though, substitute Asisat Oshoala turning home to make it 9-0 as Barça moved to the top of the table despite having played three games fewer than second-placed Atletico Madrid.