Toni Freixa interview: Disrespectful Neymar shouldn't re-sign for Barça
The wannabe president sat down with SPORT to discuss some of the big issues at Camp Nou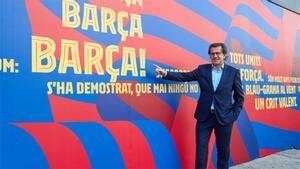 A director at Barcelona between 2010 and 2015, Toni Freixa now wants to return as the club's president. He will run in the election in January and has spoken to SPORT about some of the key issues facing the club.
Why do you want to be the president?
Because it's my passion, because I have always been a Barça fan, because I know the club well and because I can use my experience at a moment when the club most needs it.
You didn't support the vote of no confidence against Bartomeu?
That vote should be an instrument to be used in exceptional situations and I didn't think that was the case, keeping in mind the board's mandate was due to expire and they had already called elections for March.
Do you agree the financial situation at the club is critical?
Yes, it's very complicated, derived from the pandemic and a poor management model at the club. Without the pandemic, it wouldn't be worrying.
Have Barça let the wage bill get out of hand?
Totally. We have created a management model obsessed with generating revenue to be able to pay the players' salaries. Instead of generating revenue as a consequence of good management in a sporting sense, we have been looking for revenues to cover the money we have committed to spending. The wage bill is really high, as is the volume of debt, above what's marked by the club's statutes.
How do we fix it?
Firstly, by being conscious of reality and telling the truth, not deceiving anyone. We're in a global pandemic and we can't make promises that we can't keep. We're on the path of reducing spending and having a more sustainable sporting model. When the pandemic is over, we will return to normality in a couple of years. And we still have Ansu Fati, Riqui Puig, Pedri, Trincao, Konrad, Mingueza… So there's no need to make a new club, the one we have is magnificent. With sporting criteria and the rationing of spending, there's no need for an apocalyptic approach.
What would be your first move as president?
We will see, but the most responsible thing would be to meet with the CEO to learn about the club's situation and to take the necessary decisions.
And sit down with Messi?
Obviously, our intention is that he stays with us.
Koeman will be your coach?
Koeman is the Barça coach, so he is mine, too. And I honestly think he's doing very well. I am not speaking about results, but remember that Cruyff was renewed after two difficult years and Rijkaard won nothing in his first season. I see things that excite me in Koeman's Barça. He's managing the team and the circumstances well.
Rousaud said he would sign Neymar. Would you?
I am convinced he should not return. Neymar disrespected the club. He deceived us to leave and has filed lawsuits since. It's not the image a Barça player should have. And his performances in recent years haven't been the same, either.