Joan Laporta critical of Tusquets's management committee in charge of Barca
He wants them to take more decisions and more decisively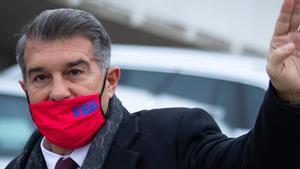 Joan Laporta was the most critical of the interim board when speaking after the meeting on Wednesday.
The presidential candidate told Catalunya Radio that he was angry with the constant improvisation.
"On Tuesday the committee will decide the date of the elections, it seems the reasoning from the other day has changed a bit, so let's see what they decide," said Laporta.
"It's good that they want to keep us informed but I think it's time to take decisions and make things more clear."
He also praised Barca coach Ronald Koeman's contribution to the meeting.
"Koeman was impeccable, very elegant, he understands the club's economic situation, although he wants the player (Eric Garcia). For now the transfer is not viable. I'm partial to waiting until the summer. He's shown he wants to come to Barca, if he wants to, may he keep showing it. The option they are talking about is sealing now but incorporating him in the summer."
LATEST EPISODE OF THE BEST FC BARCELONA PODCAST IN ENGLISH