Saul: We lacked effectiveness in front of goal
The Atletico Madrid midfielder returned to the city of his birth and was praised by Elche fans
Atletico drew 1-1 in the east of Spain with another disappointing display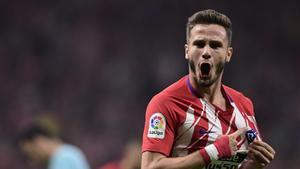 Saul Niguez left the city of his birth with a bad flavour in his mouth. Despite enjoying "a sepcial and emotional" game, which Atletico Madrid drew 1-1 with Eibar, in the first leg of the last 32 Copa de Rey tie.
"I can't leave content after the game, with the image of the team, I think we have to give more, we have to be self-critical. The team was not as good as we would have wanted and we have to keep working to improve it."
The Atletico midfielder said "we lacked effectiveness in front of goal, which gives you the tranquility to finish games off well. We are not scoring goals and in the end we suffered."
Saul came on in the 58th minute and was the big protagonist of the game. Elche gave him a plaque and a shirt before the game started - they were his first club.
"I will never forget this day," he added. "To come to my city with the team that has given me everything, which is Atletico, is very emotional."