The figure that dismantles the comparison between Ansu Fati and Vinicius
Ansu's scored more LaLiga goals than the Brazilian in far fewer games
Sunday's Clasico will be the first without Lionel Messi but also the first with Ansu Fati, who has just signed a new contract, wearing Barcelona's No.10 shirt. He wants to score against Real Madrid, as he did last season.
Ansu is Barça's present and future, as is Vinicius Jr. for Madrid. Both will steal the focus this weekend because of their ages, their quality and because of the difference they can make on matches.
Both forwards, along with Memphis Depay and Karim Benzema, will be key for the coaches, Ronald Koeman and Carlo Ancelotti, but there's one statistic where Ansu betters Vincius.
The Barça youngster, with the goal he scored against Valencia, has managed 13 goals in 34 games for Barça in LaLiga. His ratio is much better than Vinicius, who in 90 appearances has scored just 12.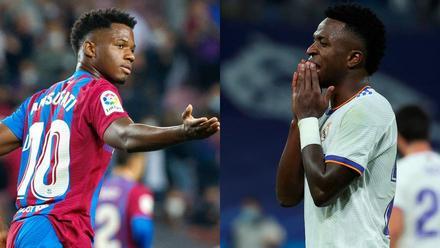 Clasico draw
While Ansu's the clear winner in that sense, as far as the Clasico goes, they have both scored one each. Vinicius netted in March 2020, opening the scoring in a game Madrid won 2-0 just before the pandemic. Ansu scored last season, making it 1-1 before Barça lost 1-3 at Camp Nou.
Ansu's nose for goals is second to none of his age. He broke records as a youngster and has always displayed a level of finishing that belies his years and xG. It's not been the same for Vinicius, at least not until this season, with the Brazilian finally starting to take his chances.
Vinicius, who arrived in Madrid in 2018, has now played four Clasicos for a total of 242 minutes. Ansu, in contrast, has played three but two off the bench for a total of 97 minutes.
On Sunday, they will compete for the three points but also to be crowned the new King of the Clasico.