Mohamed Salah will fast for Ramadan during Champions League final
Salah has confirmed he is fasting and is not going to break the rules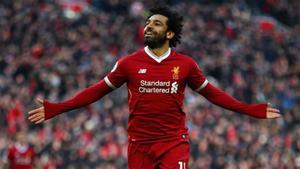 Egyptian forward Mohamed Salah is fasting Ramadán ahead of the Champions League final and will do so even on the day of the game.
The winger, according to Egyptian newspaper Al Masry al Youm said that he rejected the idea of breaking the fast before Kiev.
Ramadan started on May 17 and lasts 28 or 29 days, and is important for Muslims, who must not drink, eat, smoke or have sex among other things, until the sun goes down.
According to the newspaper the fast "will not affect him" during the game. They also say his family will slaughter three calves as a sacrifice to bless him.
Salah, the best player in England, is seen as an idol for the Egyptian public, after he helped them reach the World Cup by scoring a last minute penalty, after a 28 year absence from the tournament.