Arturo Vidal makes full debut in big Inter win over Benevento
Antonio Conte's side won 5-2 with a brace from Romelu Lukaku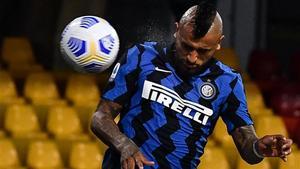 Arturo Vidal started for Inter Milan in the best way possible, with a big rout, on his full debut. Antonio Conte's side won 5-2 at Benevento, led by Pippo Inzaghi. The Chilean featured from the bench in the 4-3 win over Fiorentina but this was his first start.

BEN
INT

Benevento
Montipo; Maggio (Foulon, 46'), Glik, Caldirola, Barba (Letizia, 37'); Ionita, Schiattarella, Dabo (Hatemaj, 70'); Insigne (Tuia, 46'), Moncini (Lapadula, 63') y Caprari.
Inter
Handanovic; Skriniar, De Vrij, Kolarov; Hakimi, Gagliardini (Eriksen, 81'), Sensi (Brozovic, 65'), Vidal (Barella, 52'), Young (Perisic, 65'); Lukaku (Lautaro, 65') y Alexis.
Goles
0-1 M. 1 Lukaku. 0-2 M. 25 Gagliardini. 0-3 M. 28 Lukaku. 1-3 M. 34 Caprari. 1-4 M. 42 Hakimi. 1-5 M. 71 Lautaro. 2-5 M. 76 Caprari.
Árbitro
Francesco Fourneau. T.A.: Schiattarella (73').
Romelu Lukaku opened the can nice and early and grabbed a brace in total, with Vidal eventually going off with the team 4-1 to the good for Barella, while Barca target Lautaro Martinez came on for Lukaku then too.
The Argentine netted the fifth before Caprari notched a late consolation for the beleaguered hosts.