Yerry Mina waiting on Hebei Fortune in order for Barça move to go through
The Colombian's future is linked to Mascherano's China move
Mina is waiting for the call and ready to move to Barcelona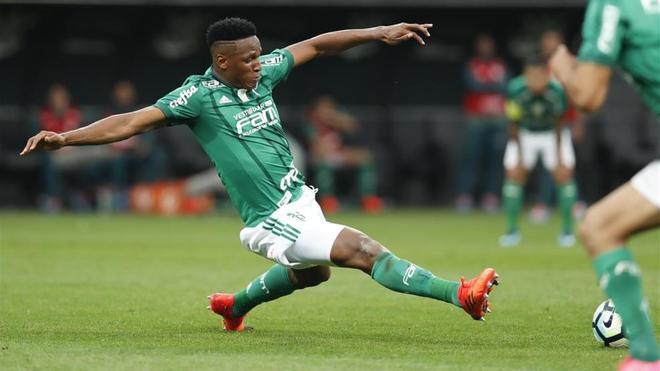 Yerry Mina's future depends on Chinese Super League side Hebei Fortune, who hope to sign Javier Mascherano. The Chinese club plan to travel to Barcelona in January to negotiate the final terms of the deal with the Catalan side.
The first offer is worth €7 million but Barça want €10m. Therefore, a meeting is needed if the deal is to be finalised and only then will Mina's immediate future become clear. The Palmeiras defender will not arrive until Mascherano leaves.
The Colombian is waiting for the green light from Barça, then, to catch a flight to Spain. The contract with the player is signed and Palmeiras have included the deal in their finances for 2018 -- in concrete, a total of €7m.
Palmeiras and Barça agreed a deal for the summer of 2018, after the World Cup. The fee is due to arrive in July.
Mina is currently on holiday after the end of the Brazilian season. During his beak, he has taken part in friendly matches. He is due back for preaseason on Jan. 5.
It's most likely he will begin preseason with Palmeiras and later, when Barça and Hebei reach an agreement over Mascherano, he will travel to Barcelona.