Xavi interview: What Griezmann did last summer hurt at Barca
The legendary midfielder spoke to SPORT about Messi, Arthur, Griezmann and more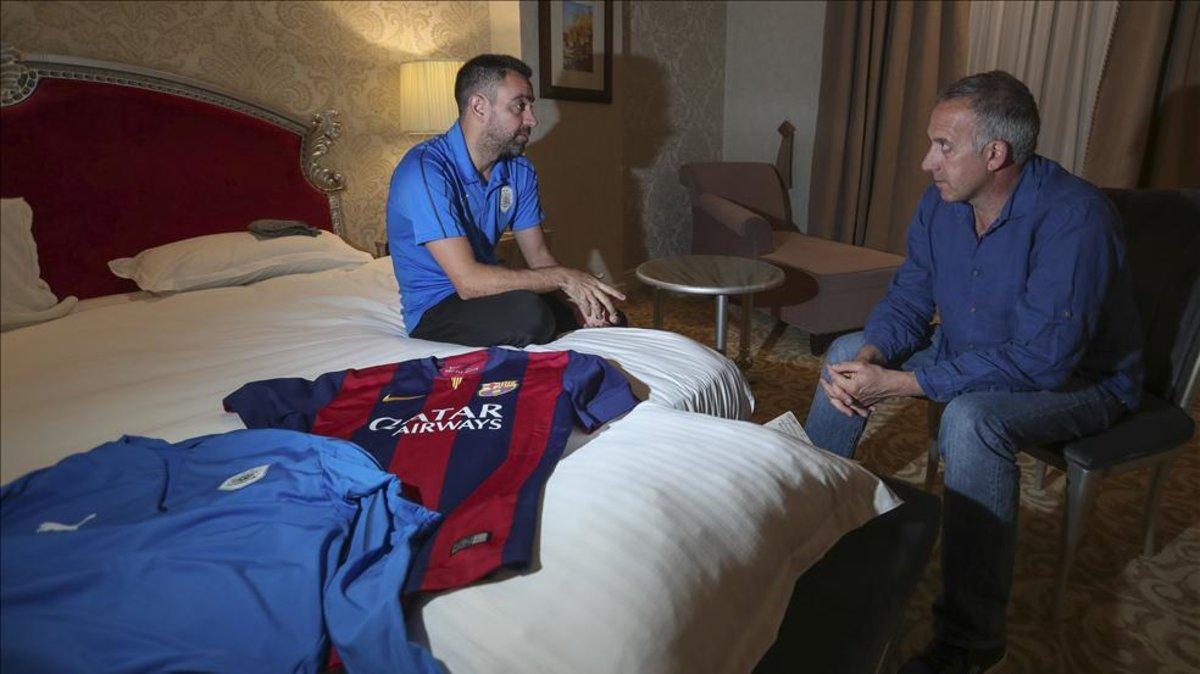 Xavi Hernandez spoke to Sport before playing his final game as a professional footballer. One of the topics was Antoine Griezmann…
Is winning four Champions Leagues in the Messi era is not enough when you have the best player in the world?
That's more than a few, we only had one before. We were able to win more but it's hard to win the Champions League. Guardiola's Barca were better than the rest of the teams and we only won two of four. Chelsea and Inter knocked us out. But be calm, Messi's not finished yet.
What's left?
We always talk about the post-Messi era, but Leo has three or four good years left. At the top level, like now, because he looks after himself, he's incredibly professional, he's physically strong, a beast mentally. He's the No 1 at everything.
How do you imagine your return to Camp Nou?
If one day I come back to Barcelona it's all a consequence of knowing that I will be judged and that this club is a pulper. Everyone wants to be at a big team. It would be more comfortable to go to a second division club but I'm competitive and I like big challenges. I know what will come, I will go bald or my hair will turn white (he laughs), but it is what it is.
Will you take a position in the club elections?
I shouldn't take a position, but I am good friends with Victor Font, we have a very healthy friendship. He would be a great future president. On the human level, because he's a natural leader, coherent, he has common sense, he's intelligent and has empathy. He would let the football people work on their job, which is important, and he has important working experience. He's very prepared. Maybe there are other options but this is a very very good one.
Will you support him?
If saying what I just said is support, then yes. But I don't look for him, instead for what's best ofr Barca. I think that one of the people who would do Barca well is him.
A player who's compared to you is Arthur. How do you evaluate his first season at Barca?
You have to compare Arthur at 22 and Xavi at 22. You can't compare Arthur at 22 with Xavi at 30. It's not fair. He's had a good season. He doesn't lose the ball, he sees the best solutions, he's smart. He can play 10 years at Barca at a brutal level. He should attack, give the killer ball, shoot, but that was true of me at that age. I see myself reflected in how he plays … without being from the Barca school. With him and De Jong at 21, Barca have two very good players. De Ligt should be signed too.
Would you sign Griezmann if the dressing room doesn't want him?
I understand it hurt what he did last summer. if the reason for the rejection (from Barca players) was only a footballing issue, I'd speak with the dressing room to make them see he's a player who can bring something. We have to see, however, who is signing him? The sporting director? Valverde? The president? If I came to Barca I would ask for the signings, and if the dressing room doesn't agree with any of them I'd speak with them, but in the end I decide. Be it Griezmann or whoever. Another thing would be if the coach doesn't want him either. Then we have a problem. Seeing the SPORT front cover I said: "Wow, you have to know that because if not, you don't make a front page like that."