Xavi Hernández: "I'd never re-sign a player who left Barcelona"
The ex-captain is worried by recent departures from the youth system: "If you go, you don't come back"
Xavi also takes about his management role models Guardiola and Aragones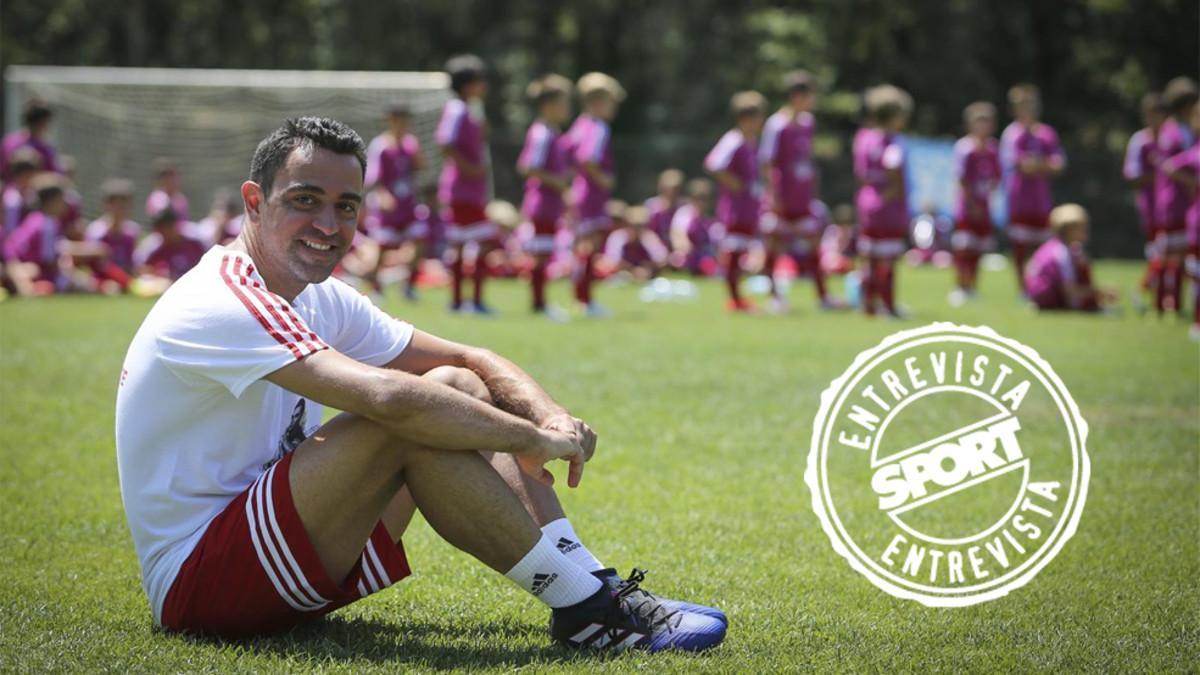 He's not captain of FC Barcelona any more but he still has his stripes, he is not a coach yet but talks about philosophy and models. Xavi Hernández, the player who has made the most ever appearances for Barcelona, talks clearly about current events at Barça and does not swerve any questions, however loaded it is.
The children at the camp are asking if and when you'll go back to Barcelona
The children see me as a coach (laughs). It's not easy to be a coach at Barcelona, you have to have very clear ideas and be prepared. I've made a start in Qatar, with a great project. I'm working with Félix Sánchez and Sergi Alegre. My aim is to be a coach and return to Barça in the future. As a coach. I'm not hiding that.
And when can you get down to work because I understand it takes three years to get the badges, no?
I still haven't had time. I'll get the badges when I stop playing. I'll start next year and I'll be able to have it in less than two years.
Do you have any model or reference as a coach you'd like to be like?
I've learnt something from almost all the coaches I've had. It's a bit of a thorn in my side that I never played under Cruyff but later on I had a direct relationship with him, although sadly it was in his last years. With Cruyff, I always felt I was learning something, not just about football but life as well. There is a before and after at Barça with Cruyff.
Guardiola and Luis Aragonés are references for you as coaches?
They are the two coaches I was closest to in terms of football and on a human level. With Pep, I understood him perfectly with just two words. They are the two people who had the most influence on my career. I owe everything to them, as well as Joan Vilá, who coached me as a youngster.
Did Luis Enrique change Barça's style?
The team played the same way, but it was conditioned by the players on the pitch. Luis Enrique's style was the Barça style with a few adaptations.
What does seem clear is that being Barça manager drains you in three years
And I'd be putting my head in the lion's mouth, no? (laughs). We already know you have to be very prepared to manage there. The surrounding environment is savage too, everything's very complicated, almost inhuman. The environment is not calm even if you win because then they complain that you're not playing well. Therefore, it's more difficult to manage Barcelona than Real Madrid because here winning is not enough on its own.
Would you sign Bellerín?
I haven't seen him play much, but I'll say one thing: it would be difficult for me to sign a player we'd already had.
OK, but this was the case with Piqué and Cesc, no?
Yes, it can turn out good, bad or average. But I'm not in favour of re-signing players who have left. Why do they leave at 16 or 17? It seems ridiculous to me. I don't understand it.
Are you referring to Mboula and Eric Garcia?
Yes, to be honest, I was very surprised by what they did. I wouldn't re-sign them in the future. I'd have that approach. You were here, you wanted to leave, well don't come back.
A firm and uncompromising decision
Yes. I understand if you want to go, it's for a reason. Like Toral, he left because his mum's English. Ok, but it is what it is. The ship's sailed.
And Deulofeu?
That was different. He didn't want to leave. He was asked to go.
What is your view on Laporta?
I've seen him suffer a lot because of the court case… He seems liberated now, his quality of life has improved. For me, he's Barça's best ever president.
And the imprisonment of Sandro Rosell?
I'm surprised someone like Sandro has ended up in prison. Let's see how it all ends up.
Where will you be on 1 October?
In Qatar.
And what do you intend to do?
Vote, if they let me. I believe in the right to decide and vote. People complain that in Qatar the people can't vote and here we have a democracy and they don't let us vote…
Are Real Madrid the rival to beat?
Always. Madrid winning titles is a bombshell for Barça. It makes everything more urgent.