Why Barcelona are optimistic after meeting with Ajax defender De Ligt
The defender wants to sign for the Bluagrana despite higher offers from elsewhere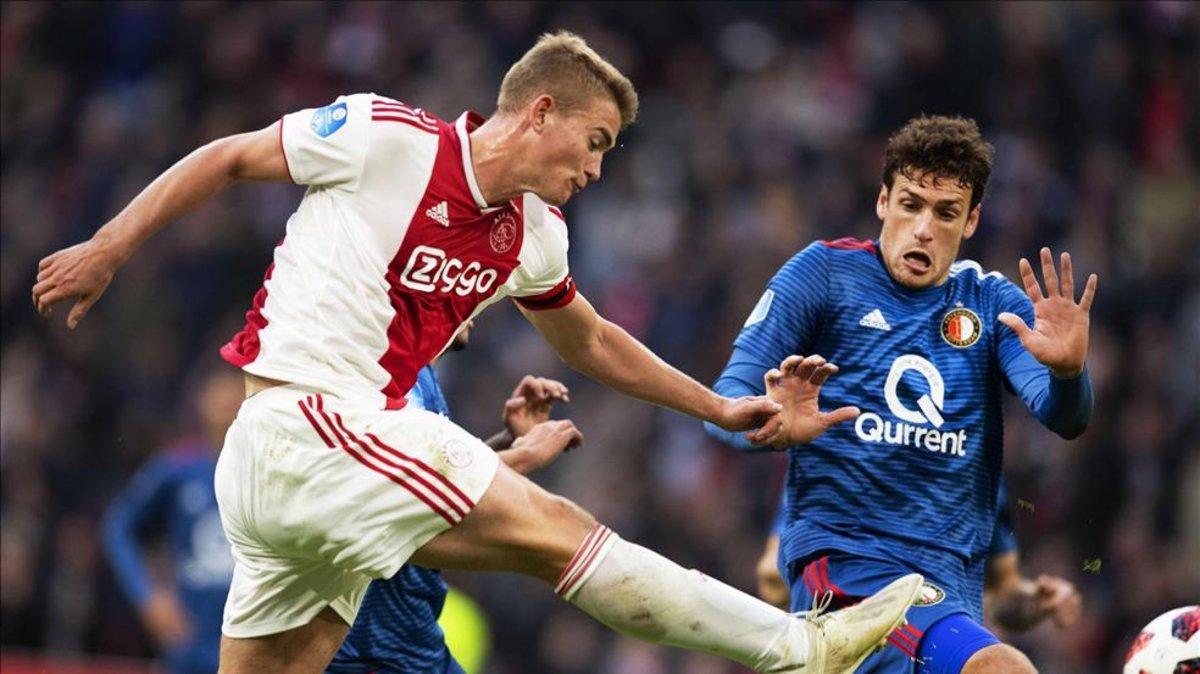 Barcelona's top priority as they look to build a top level team for the future is to sign a centre-back. There are not many guaranteed options on the market and it's clear that the target is young Ajax defender Matthijs De Ligt, who already has top level experience.
De Ligt's a player with a lot of quality and a big future, so the competition for his signature is strong. Europe's top clubs are following him. For that reason, Eric Abidal and Ramon Planes met with the player and his agent, Mino Raiola, to convince them Barça's the best option. There's optimism, but it will not be easy to win the battle.
Barça wanted to explain their project to the player and their plan to help him acclimatise. De Ligt is very young -- not 20 until the summer -- and Barça want him tied down. In the meeting, the player voiced concerns about his participation next season. He feels Barça already have top level centre-backs (Umtiti, Lenglet and Pique) and he will have to earn his place, but he wants to play as much as possible.
De Ligt knows some teams will make him a starter from the off, something Barca never promise anyone. In fact, they used the example of Lenglet, who arrived as third choice in theory and has played a lot already due to hard work and his performances. Barça will bet on De Ligt for the present and the future. They are convinced he can mark an era at the club.
The Dutch defender's excited by Barça's interest. He knows it's the best fit for his style and, for that reason, is ready to reject better offers. Paris Saint-Germain would pay the most, but De Ligt will be guided by sporting issues. And that decision could be taken at the beginning of next year. Evidently, he has a friendly agreement with Ajax to leave, something no on doubts. In fact, Barça have kept their promise and have not pushed for the centre-back or De Jong as the Dutch club asked last summer.
Now, De Ligt has offers from Barça, PSG, Bayern Munich, Juventus and there's growing interest from Real Madrid, who could try and throw a spanner in the works in the coming weeks. He's the most wanted defender on the market, but Barça are well positioned. There are doubts, but the meeting was positive and there's optimism a deal will be done.