What Barca's kit for the 2022-23 season will look like
Footy Headlines you old chestnuts, you've done it again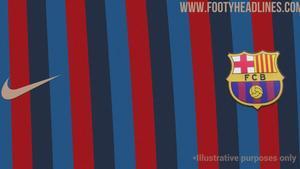 The perennial football shirt leakers Footy Headlines have done it again and revealed what Barcelona's 2022-23 shirt is supposed to look like.
According to the portal, the shirt will be sold in the summer of 2022. It's an innovative Nike design playing with two tones of blue, one clearer and one darker, combining with the usual Barcelona claret. The stripes are vertical and smaller than normal.
The main sponsor for the shirt is not known with Rakuten's deal with Barca expiring in 2022.
LATEST EPISODE of SIEMPRE POSITIVO, the best FC Barcelona podcast in English