Valverde: "Messi is the best in the world. But we have to help him"
The manager admits that his aim is to find a style that Messi is comfortable in
And does not rule out the possibiity of him playing as a false 9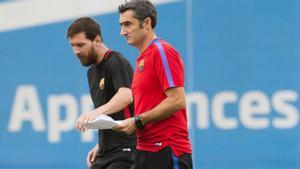 Ernesto Valverde spoke at the press conference on Saturday afternoon before Sunday's game against Real Betis. He spoke on various topics including possible signings and the arrival of Paulinho.
One of the other topics was the importance of Leo Messi to Barça and Valverde did not hesitate to say that "Messi is the most important player. He is the best in the world. We are lucky to have him. But we have to help him. We have to find a style that he likes and enables him to play his game and make the rest play. Everyone is looking to him".
He was less effusive when asked if Messi had already renewed his contract. "I'm not up-to-date with these topics, but if it's agreed…".
The new manager was also asked if he planned to use Messi as a false 9 in the absence of Luis Suárez. "I'm considering all the options, particularly the ones that will give us balance defensively and in attack".