UEFA confirm to SPORT that they have received a complaint from PSG
"We have received a letter but we can't say anything else," a source said
The letter details several decisions the French side feel went against them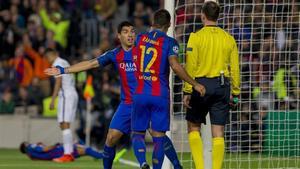 UEFA have confirmed to SPORT that they have received "a letter" from Paris Saint-Germain in which the French club complain about the German referee Deniz Aytekin's performance in their 6-1 loss to Barcelona at Camp Nou.
"Yes, we have received a letter from PSG in that respect, but we don't have any more comments to make on the situation," a UEFA source explained to SPORT on Tuesday.
PSG sent a dossier to UEFA's HQ to express their annoyance at the refereeing against Barcelona -- according to some French media, the list included as many as 15 moments in which they felt Aytekin favoured Barça.
SPORT understand there were at least 10 moments in the complaint.
UEFA also confirmed that they have studied Aytekin's performance, as they do with all referees after games: "In each game we analyse the work of the referees to decide what games to give them in the future, but there's a world of difference between that and saying we will take action against a referee or punish them.
"For us, the game between Barcelona and PSG ended the moment the final whistle went. There's nothing else."