Tusquets: I never said that I would have sold Leo Messi
The acting president appeared on Catalunya Radio to clarify his comments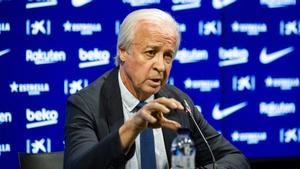 The president of Barcelona's managing committee, Carles Tusquets, has attempted to clarify comments he made on Thursday that insinuated he was keen to sell Lionel Messi last summer.
Tusquets has been annoyed by the reaction to what he said and stated he was talking about a hypothetical operation that didn't happen.
"I did not say I would have sold Messi, I said that financially his departure would have been good for the club," the acting president said on Tot Costa on Catalunya Radio.
On Ronald Koeman's negative reaction to his comments, he added: "If it's necessary, I will explain to Koeman that they've poorly translated what I said."
NO 'MESSIDEPENDENCIA"
For Tusquets, for what selling Messi would have generated financially for the club, it could have helped fix the current economic situation caused by the coronavirus, although he also added that "what Messi generated the club compensates the cost, but Barça don't depend on one person alone. The Barça brand around the world doesn't depend on one name alone."
Returning to his comments from Thursday, he said he wanted to speak to Messi's people: "I am ready to speak with them to explain my response."
He finished: "It's evident that I am going to limit my appearances in the media from now on."