Things to look out for in today's Joan Gamper Trophy
Even without Leo Messi, there are various things to keep an eye on in today's 'Gamper'
Nothing will be the same without Leo Messi, including the Joan Gamper Trophy. The prestigious friendly is due to be held at the Estadi Johan Cruff instead of the Camp Nou, with only 3,000 lucky fans able to attend due to Covid-19 restrictions. But all is not lost, as there are many things to keep an eye on in tonight's encounter between Barça and Juventus (with the men's fixture due to kick off at 9.30 pm).
Barça Femení friendly and Busquet's first game as main captain
This will be a historic Joan Gamper Trophy, as it will be the first event to also include a match between the two sides' women's teams. The friendly between the current European champions and another strong competitor will kick off at 6 pm, prior to the men's fixture.
After, there will be an official presentation of next season's first team squad, although the players will not be presented one-by-one as is customary in the 'Gamper'. It will also be Busquet's first game as the club's captain, and he is expected to address the crowd and say some words about Leo Messi.
For the main event, there are several things worth keeping an eye on:
How will the fans react?
While only 3,000 fans will be in attendance - only half the capacity of the Estadi Johan Cruyff - the supporters will have a lot to say about recent events. Not just about the outgoing Leo Messi, who has been Barça's most iconic player over the last two decades, but about other players who are not in the fans' good books. Antoine Griezmann, for example, was criticised by gathering supporters as he left the club's training ground on Thursday. It remains to be seen if these criticisms will be carried into tonight's friendly.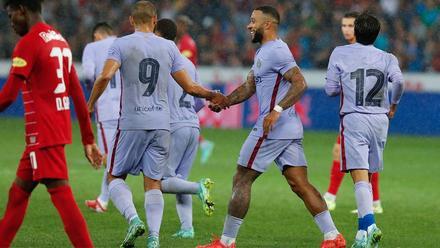 Memphis: the 'killer' to bring a smile to the fans' faces
With Messi leaving the club and with many other players under severe scrutiny from the fanbase, the supporters will be hoping to see good performances from new signings and academy players. Memphis Depay, who will wear Barça's '9' shirt for the first time, falls into this category. It is hoped that his performance will give the fans something to smile about after this week's events.
At times like these, Barça fans like to place their hopes in La Masia graduates. Nico González has performed very well so far this pre-season, and is expected to feature in this evening's friendly. Austrian forward Yusuf Demir is another player likely to make an appearance, having shown an ability to get fans on their feet due to his speed on the ball. Gavi, who suffered a fractured jaw in his last outing, has also impressed.
Debuts for 'Kun' Agüero and Emerson
New signings Sergio Aguero and Emerson Royal are set to make their debut in the friendly against Juventus. The former, who is a close friend of Leo Messi and who came to play alongside his compatriot, will need to show that he still knows how to find the back of the net. The Brazilian, meanwhile, will be seeking to nail down a place in the starting XI.
Emerson's compatriot, Philippe Coutinho, may also be passed fit to play. He has trained twice with his team mates and may have a chance of getting minutes off the bench.
Cristiano Ronaldo at the Estadi Johan Cruyff
Cristiano Ronaldo is another huge attraction. The Portuguese forward, who wants to win every game he plays, will try to show why he is still one of the best players in the world. At 36 years old, he still remains fiercely competitive - even in friendly matches.