The six kids coming through at Barcelona who can mark a generation
STORY
Some big names left Barça in the summer but there's no shortage of talent among the youngsters
Being in Camp Nou moments before an academy graduate makes their debut always gives you goosebumps. You can feel the excitement among the supporters when the youngster gets ready to come on.
What must be going through the mind of a 17-year-old making their debut in that moment? Since they were a kid they will have dreamed of playing at Camp Nou and now they are seconds away from that happening.
For Gavi, Nico or Ansu, they have all been through it now. They have that unique understanding of Barcelona's philosophy having come through La Masia.
You know that having come through the academy, you will get unique treatment. Camp Nou can be demanding, but it's also grateful to the kids that have developed at the club and are looking to make it with the elite.
UN DOMINGO DE AGOSTO
The moments described above were experienced by the 26,000 fortunate enough to be in place when Gavi ((Los Palacios y Vilafranca, aug. 5, 2004) made his debut before the international break.
Since Ronald Koeman arrived, due to resignation (lack of money), fortune, and a good generation coming through, the club have started to bring through some incredible talent.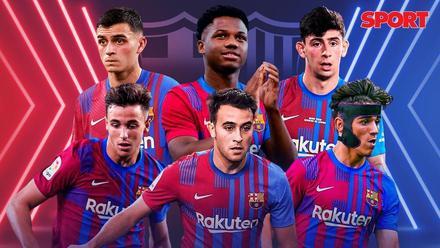 The chosen six
Among the six U20s coming through, there are two groups. One of those groups includes the players consolidated in the first team already, Ansu Fati (18) and Pedri (18). It's not taken them long to show their talent.
In the next group are the fresher faces, those hoping to make the step definitively this season. We can include Eric Garcia (20) in that group, a La Masia graduate who left for Manchester City but returned this summer.
Then come Yusuf Demir (17), Gavi (17) and Nico (19), with all three expected to get chances throughout this season as they learn on the job.