The reign of Ronaldo and Messi: Is it the end of an era?
Neither of the players performed in Russia as their countries were eliminated from the World Cup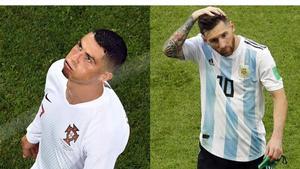 The world of football has been left baffled. Disoriented. Orphaned. Lionel Messi and Cristiano Ronaldo, the two players that have all the prizes, the headlines and the praise of the last decade, have been eliminated from the World Cup before it's even had a chance to really get going. Neither of them shone in Russia. Both drew all the focus and attention, but the truth is that their participation went much more under the radar than was expected. Messi was crestfallen, sad, accepting his destiny without doing much to change it.
Maybe he was aware of the selection of players he had around him and had already decided to desist without even trying. This is the worst Argentina side in their history. They've spent a few years as a side of names that do little more than provoke yawns. And it's fallen upon Messi to live in this era. Splendour with his club and impotence and irritation with his country. Beyond that, Leo still has a long way to go with Barça, with whom, until now, there has not been any hint that any kind of decline has begun. Ronaldo, two years older than Leo, has also said goodbye to Russia without starring. He scored a hat-trick against Spain, but since then his involvement has been under-par. His future with Real Madrid is unknown.
In the world of football, cruelty reigns and no one saves their mourning or respect for legends. It's for that reason that the public opinion has already begun to ask that if, after a decade of unprecedented success, the Messi-Ronaldo era is coming to an end. In fact, they may not even win the Ballon d'Or this year, given how much significance is placed upon the World Cup. It would be hasty to back this campaign, but the 'run run' has already started and the names to 'replace' them are pushing strong from behind. Is it the beginning of a new era?