The reason Yerry Mina keeps being left out of Barcelona squads
The Colombian defender is not included in Valverde's list for Sunday vs Atletico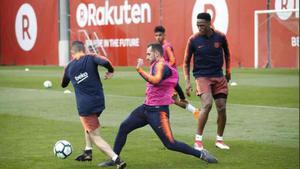 Barcelona's Colombian defender Yerry Mina has not ben included in the squad to face Atletico Madrid on Sunday at Camp Nou. It's the fourth game in a row that Mina has missed out on making the squad, left out this time with Denis Suarez and Aleix Vidal.
Ernesto Valverde, asked about his absence, said: "Yerry Mina? I have four centre-backs and I usually name three on the list, and those who have been playing are Gerard Pique and Samuel Umtiti, and when Thomas Vermaelen's played he's done well. Yerry came in later. It's a way of picking the squad, in which according to the games, I pick one player for better over another."
Mina started for Barcelona against Getafe but has not played since. Along with Denis Suarez he's been left out the most of recent squads.