The loneliness of Barcelona star Ousmane Dembele
The Frenchman has been criticised in recent months and has changed a lot from the person he once was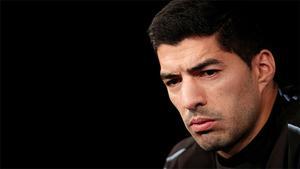 Before signing for Rennes, Ousmane Dembélé made a call in the middle of the night to a person of confidence - who was not his agent. It was a key decision in his career and he sought approval. The answer was blunt: you must take the step up to guide your career towards the elite.
The reasons were obvious. Rennes have good youth training and were known for giving opportunities to young players in the first team. But Dembélé's mind whirred all night. He needed to feel safe. In the end he listened and shot forward with the decision. That same person says now, that he has not been able to talk to him since the semi-finals of the World Cup between France and Belgium. Also, he says it is hard for him to recognise the "reserved and kind boy who listened to his family".
It happens often in the delicate journey from neighborhood boy to millionaire star; some relationships get broken along the way. And the wound stays open longer for those who stay on the road.
In the case of Dembélé the storm came with the change of agent: from Badou Sambagué to Moussa Sissoko. The former lived in the same building as his family and shared a desk at school with Ousmane's brother.
The second was for the great leap: the new life in Dortmund and the great train of his life that he had to catch: Barça. Sissoko was an agent with a portfolio of important names, like Medhi Benatia. And he soon connected with the forward's desire to grow quickly.
With the two agents there has been a common denominator: the determination with which they have defended the interests of the striker, although it has brought them against his clubs. Dembélé, like on the pitch, always played his own game.
In Rennes he threatened to leave when the club took too long to offer him a professional contract, when he was already in first team dynamics. It was 2015, he was only 18 years old and had proposals from Benfica and RB Salzburg.
"He sent a message saying that he was tired of the situation and that he wanted to quit football, so he left for Senegal with his grandmother. It was too far," said Mickaël Silvestre, responsible for the recruitment of players for Rennes, on the program SFR Sport 1.
Ousmane's message to his agent was blunt: "I only train with them, but I'm not a first team player. I want to improve, but how can I do it if I do not play?" It was his mother Fatima who intervened then, to get him to continue at Rennes. A key character in Ousmane's life, especially after his parents divorced.
The son of a Malian father and Mauritanian mother, Dembélé was born in Vernon because his parents moved to France looking for work. People close to the Frenchman in his beginnings recognise the importance of the figure of his mother during a great part of his career. But also the progressive distancing of the two since his arrival in Germany. In Barcelona this situation has been accelerated.
THE BIG CHANGE
"In Dortmund he begins to change his lifestyle a little. He is less protected. And he began to be less focused. At Barcelona that dynamic has been enlarged and those who are by his side just tell him that he will win the Ballon d'Or. If he worked like Cristiano Ronaldo he would be one of the best in the world."
As had happened in Rennes, at Dortmund he ended up going AWOL to force his departure to Barça. On the pitch he was showing a formidable talent with his dizzying game, based on feints and speed, which made Tuchel see him as a future Ballon d'Or winner. But he also left amid criticism of some team-mates unhappy with his attitude.
An abrupt end to an era that he remembers with affection. There he found a father figure in the coach. He had the fans by his side. And he felt comfortable in the locker room. He discovered a higher level than in the French league, but without the pressure he has now. At Barça they believe that neither the player nor his people were aware of the size of the club.
So they told him, in the last meeting with his agent. Pep Segura mentioned the meeting with his representatives on the program 'Què t'hi jugues'. And also his adaptation problems. "Dembélé is very young and has never had to make an effort like the one he is doing now to adapt to the game of Barça. We recognise that it is hard for him and he also recognises it, but we are working to change this situation."
His agent believes that the episode in which he did not show up for training (and was not locatable for more than an hour) has been exaggerated. That Dembélé is a young player and that he has to keep growing. But in the club and in the locker room they suspect he is still in his bubble. Even more after some criticism that he has been isolated. Especially with the distance involved now he's been called up by the France team.
Something similar happens when he is in Barcelona, where he disconnects in his house. With his childhood friend Moustapha Diatta and other compatriots. There he spends a lot of time playing video games online. More difficult is his day to day life in the dressing room where, in addition to not yet mastering the language, he is a very shy person.
His tendency to be late and scattered character have also played against him. At only 21 years of age, a flash of success and the lack of a solid structure around him, threatens the career of a talent lost in his own world.