The Frente Atletico prepared 800 Spanish flags for Barcelona's visit
In the middle of conflict, the Frente Atletico made their stance clear
Barça avoided a hostle arrival by entering the Wanda in the quietest area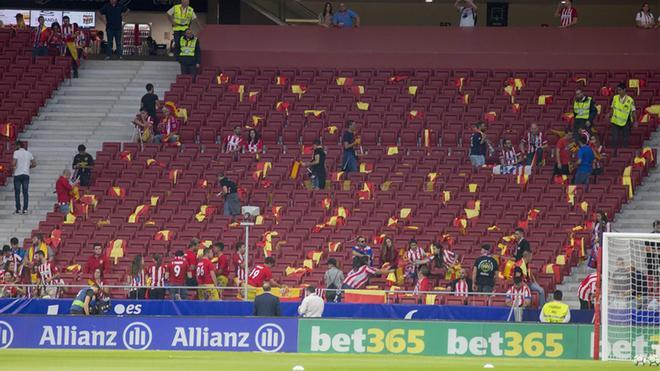 As much as the two presidents of Barcelona and Atletico Madrid -- Josep Maria Bartomeu and Enrique Cerezo -- insisted that Saturday night's game was just about football, it was enough just to be outside the Wanda Metropolitano before the game to realise that, once more, politics had a role to play in this sporting fixture.
Added to Atletico's red and white outside the stadium was the red and yellow of the Spain flag. The stalls outside the ground were selling practically as many Atletico products as Spain products. Many supporters headed to the stadium in their Atleti shirts, with a Spain flag either around their neck or their waist, too.
That this was not just any ordinary game could be seen in the level of security. More than seven National Police vans watched over the Wanda to make sure there were no altercations when the Barça players arrived. The Blaugrana avoided a hostile reception by entering the stadium through an entrance where not many fans had gathered.
The Catalan conflict is on everyone's lips at the moment and the Frente Atletico moved to make their position clear. The supporters' group prepared around 800 Spain flags for supporters to wave behind one of the goals in the football match which was once again political.
El Frente Atlético ha preparado para hoy centenares de banderas de España, que lucirán esta noche en el fondo del Wanda #FCBlive pic.twitter.com/SrMBXbM987

— Diario SPORT (@sport) 14 de octubre de 2017