The Chilean press happy with the imminent arrival Vidal to Barcelona
They lauded 'The King' ahead of his switch to Camp Nou from the Allianz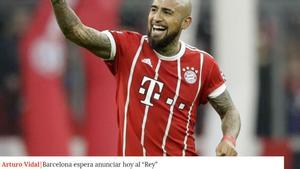 Arturo Vidal's arrival at Barcelona is imminent. 'The King' will become Barca's latest star and the Chilean media have classified it in the same way as Sport, a 'bomba' - a bomb, a big impact.
"Vidal is one step away from playing on another collossal, planetary team, Barcelona, where not too long ago his compatriots from (Chile's) golden generation Alexis Sanchez and Claudio Bravo played," wrote El Publimetro Chile, El Grafico.
"The Spanish giants want the services of the double Copa America champion and are willing to pay 20m dollars for the Celia Punk," said La Cuarta, who also spoke to Ariedo Braida, who told them" "He's a player known over the world, at a high level, with a very interesting game. Many teams follow him."
Vidal will sign for Barcelona for three seasons for 20m euros.
In Argentina Ole said: "Barcelona are close to signing one of the players that made Lionel Messi cry," referring to the Copa America finals Messi lost to Chile.