The 11 finals that will decide whether Atletico, Barça or Real Madrid win La Liga
With the three sides now level on games, the title race is entering the decisive phase
"I have always said that there's a long way to go in the league," Barcelona coach Ronald Koeman repeats each time he speaks to the media. Now it's a little easier to say, with Barça growing and the gap on Atletico Madrid cut down to just four points.
Results and sensation are good at Barcelona while it's the opposite at Atletico right now who, game by game, as Diego Simeone would say, are dropping points. And Real Madrid are still there, too, hanging in the fight with late goals. What seemed Atletico's title at one point has now developed into one of Europe's most intriguing title races.
11 games, 11 finals
There are just 11 games left, 11 finals to win La Liga. The feeling is that Barça, 17 games unbeaten in the league, are in the best form. Koeman's beginning to piece his puzzle together and Lionel Messi's doing the rest.
The message is clear: if Barça win 11 games, they will have the title in the bag. They would only need one more Atletico setback -- on top of beating Simeone's team -- to depend on themselves to finish top.
However, perhaps they have the toughest run in, with games against Real Madrid, Atletico, Villarreal and Real Sociedad to come. But being out of the Champions League, they have a little more time to rest, too.
Those four games will mark the run in for Barça, with the trip to Real Sociedad coming on Sunday followed by Real Valladolid (home), Real Madrid (away), Getafe (home), Villarreal (away), Granada (home), Valencia (away), Atlético (home), Levante (away), Celta (home) and Eibar (away). The final of the Copa del Rey (17 April) could provide a boost, too.
Atletico, no room for error
After seeing their lead eaten into, Atletico now have no room for error. Any slip up before going to Camp Nou towards the end of the season would hand Barça the initiative in a certain sense.
But they still have it in their hands and this is their run in: Alavés (home), Sevilla (away), Betis (away), Huesca (home), Athletic (away), Eibar (home), Elche (away), Barcelona (away), Real Sociedad (home), Osasuna (home) and Valladolid (away).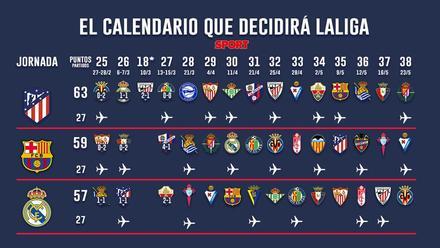 Real Madrid, hanging in there
Madrid are six points behind Atletico but only two from Barça and will be right back in the race if they can keep on winning.
They play Celta away this weekend and then have: Eibar (home), Barcelona (home), Cádiz (away), Betis (home), Getafe (away), Osasuna (home), Sevilla (home), Granada (away), Athletic (away) and Villarreal (home).
Atlético, Barcelona and Real Madrid are the three candidates for the title with Sevilla dropping off in recent weeks. Julen Lopetegui's side are 12 points off the top, although they do have a game in hand.
NEW FC BARCELONA PODCAST IN ENGLISH